Lawncrest Residents Get Update on One of Philly's Biggest Green Projects Yet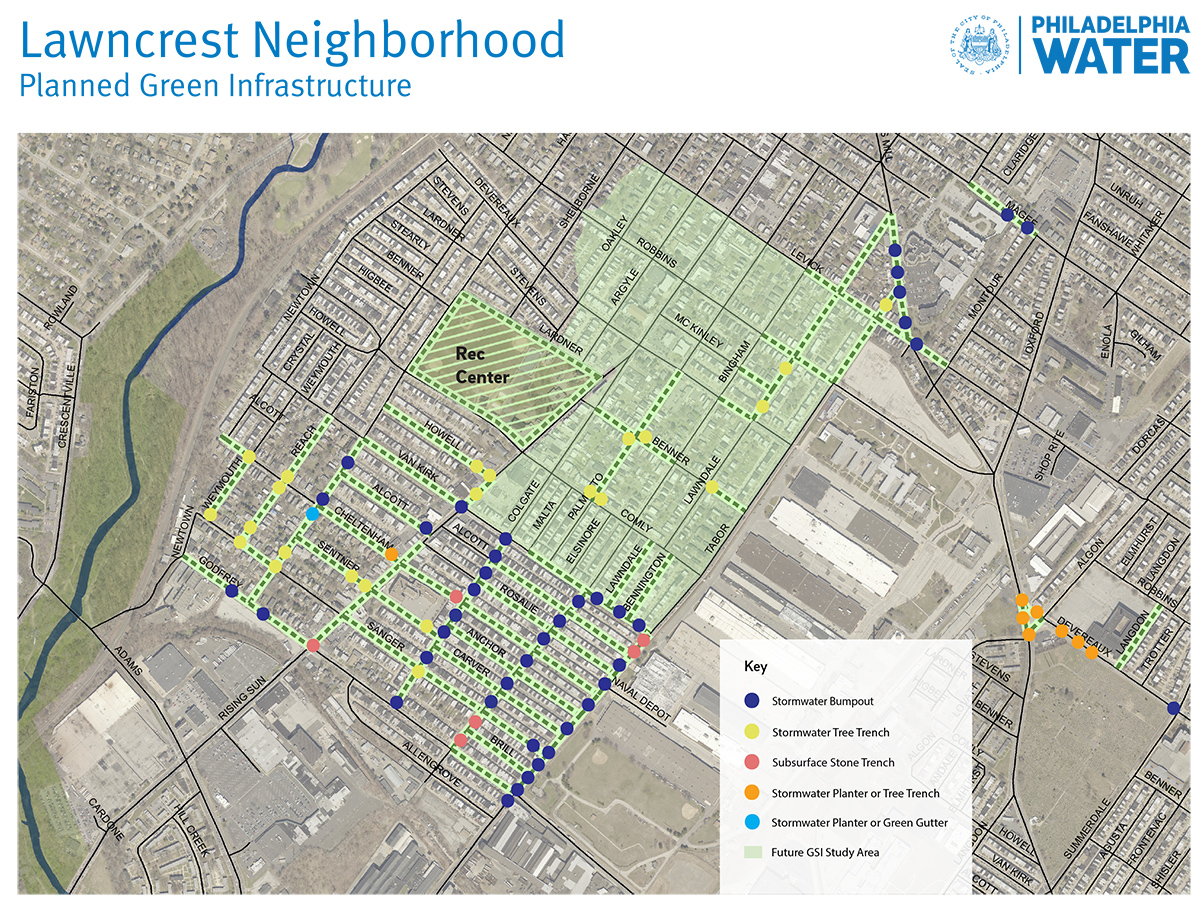 The map above shows the current plans proposed for the Lawncrest area (click for larger image). Click here to see a detail of the green tools proposed for the Lawncrest Recreation Center. Credit: Philadelphia Water.

Nearly 100 Northeast residents came out to a community meeting last week to get updates on what will likely be one of the biggest combined Green City, Clean Waters projects planned since the program began in 2011.
Held with Philadelphia Parks and Recreation, the Lawncrest Recreation Center Advisory Council and the Tookany-Tacony-Frankford Watershed Partnership, the March 7 meeting was organized by Philadelphia Water and focused on green stormwater improvements being designed for Lawncrest Rec and the surrounding area.
With over 80 green stormwater tools spread across the rec center and local streets, the proposed improvements will provide new landscaping and green space while vastly enhancing the area's ability to manage the rain that falls on local roofs, streets and other hard surfaces during storms.
While this complex series of projects is still taking shape, the current designs would allow those green tools to manage about 978,000 gallons of water every time we get an inch of precipitation. In Philly, that kind of storm happens about 65 times per year—meaning the Lawncrest Green City, Clean Waters projects could keep as much as 63.5 million gallons of stormwater out of our sewers and streams annually when completed.
That's like attaching 50-gallon rain barrels to the downspouts of 1.3 million homes. (!!!)
This effort is huge in terms of taking pressure off the local combined sewer system, which can spill diluted sewage into the Tacony Creek and other waterways when there's too much water in the sewers. To further put the scale of these projects in perspective, consider that all of the green infrastructure tools built in the first five years of Green City, Clean Waters are today keeping a combined total of about 600 million gallons of pollution per year out of Philly waterways. The Lawncrest projects alone will represent a more than 10 percent increase in that already impressive figure.
This feat will be achieved through the use of rain gardens, stormwater planters, bumpouts, tree trenches, subsurface storage trenches and more—all tools that will add to the beauty of local streets and make Lawncrest a more vibrant place to live. While each of these tools is designed to capture stormwater that would otherwise rush into our sewers, they all have different design characteristics that make them adaptable to every nuanced location.
Having such a diverse range of tools allows Philadelphia Water to respond to the needs of each situation, whether it be preserving mature trees or avoiding overhead wires.
How the Green Tools Will Work

Water captured by the green tools listed above is then absorbed by the plants within the systems, released slowly and naturally into the groundwater supply after being filtered through the soil, or cycled back into the atmosphere via evaporation. Both of these outcomes are far better than having the excess stormwater overwhelm our sewers.
The trees that will be planted in the systems thrive in urban settings, and will be selected based on Parks and Recreation's street tree guidelines. The plants and shrubs used will be native species selected for their resiliency and ability to survive both wet weather and dry conditions.
Because construction for these proposed projects is more than two years away, Philadelphia Water will continue to meet with residents and representatives from Parks and Recreation and other impacted departments. In all, the proposed Green City, Clean Waters improvements are broken up into five separate pieces that will take about two years to complete. Some elements, such as which tools will be used on certain blocks, may change based on resident feedback and other factors.
As we continue to move forward, we will hold more community meetings and post updates on progress right here on the Watersheds Blog.
Feedback from residents and other impacted community members is crucial for the success of projects like this, and Philadelphia Water greatly appreciates all those who took time to learn about the proposed improvements last week.
You can sign up for our newsletter here. Have questions about the project or Green City, Clean Waters? Send an email to Questions@phillywatersheds.org