Philly Fun Fish Fishing Fest and Coast Day: An Action-Packed Day on Our Waterfronts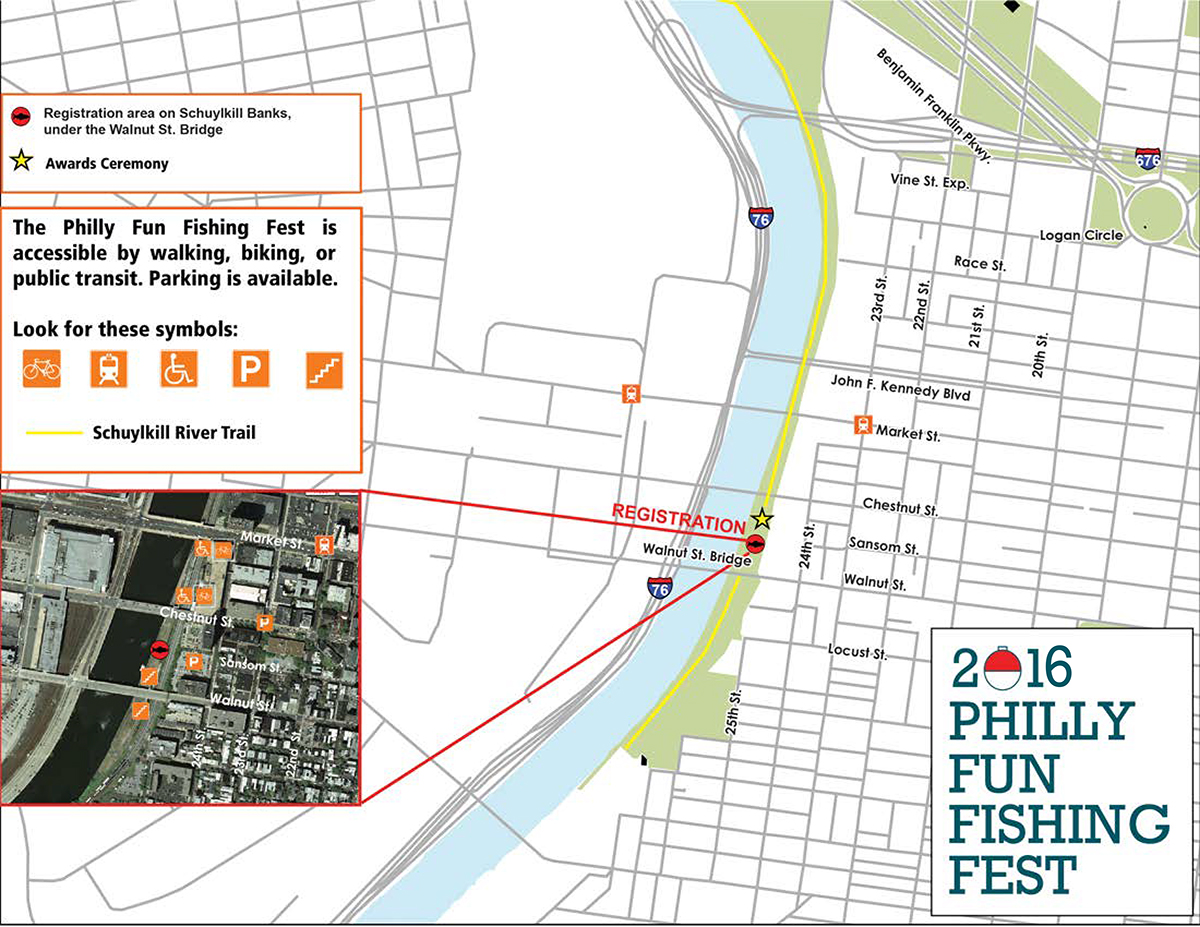 The yellow line on the map above marks the area where the 2016 Philly Fun Fishing Fest will be held. Click for a larger image.
We've teamed up with a number of partners to make September 10 a truly special day for those looking to explore what Philly's rivers have to offer. If you've been hearing stories about the amazing comeback our local waterways are experiencing, this is your chance to grab the family and see it for yourself!
The Philly Fun Fishing Fest, sponsored by Philadelphia Water, Parks and Recreation, the Pa. Fish and Boat Commission and Schuylkill Banks, will be held at Schuylkill Banks on Saturday, September 10, 2016.
The fishing contest will take place from 7 a.m. to 11 a.m., followed by an 11:30 a.m. awards ceremony featuring prizes in a variety of categories. Prizes are provided by Dick's Sporting Goods and Plano Tackle. See map above for Fish Fest boundaries.
This catch-and-release event is free and open to the public, with no fishing licenses needed for the duration of the fest. Bait and tackle is provided on a first-come, first-served basis for those who need it.
Check out prizes from last year and see our 2015 photo gallery (including some nice catches).
Registration opens Monday, Aug. 8. Visit archive.phillywatersheds.org/fishingfest or call 215.685.6300. Deadline to register: September 8, 2016.
Bring snacks and refreshments! A rain date is scheduled for September 18, 2016.
We encourage you to walk, bike, use public transportation, or car pool to the Fish Fest.
Your waterfront fun, however, need not end with Fish Fest.
Take a short walk up the river to our Fairmount Water Works site and enjoy more free fun at Pennsylvania Coast Day. The Water Works will have lots of cool activities, including a sneak peek at a new freshwater mussel hatchery and a free tour of a 1970s RV tricked out to pay homage to one of the largest living species of vegetation: moss!
We'll also be offering a free shuttle over to Penn's Landing for Delaware River Coast Day festivities, which include boat rides and more!
More: Check out the 2015 Philly Fun Fishing Fest photo gallery below.