This Place Is BMPing: Herron Playground
Each week, we profile a BMP—short for Best Management Practices—to demonstrate how local businesses, organizations and neighbors are helping to keep our streams and rivers clean by managing stormwater on their property.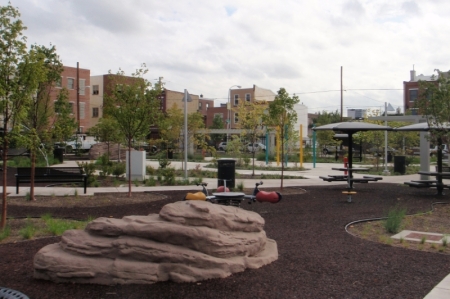 Those who attended this week's Low Impact Development Symposium in Philadelphia had the opportunity to take a bus tour of the city's green infrastructure projects and see how PWD is managing stormwater in an urban setting. One of the sites on the tour is Herron Playground in Pennsport. The playground features a porous asphalt basketball court with a subsurface infiltration system that manages runoff. Surrounding the play area and spray park pictured above are new trees and, on the south side of the site, a rain garden also helps to infiltrate water into the ground.
Locate this and other PWD green infrastructure projects on our Big Green Map.