Student Artists: Do You Have the Vision to Make Philly Care About Clean Water?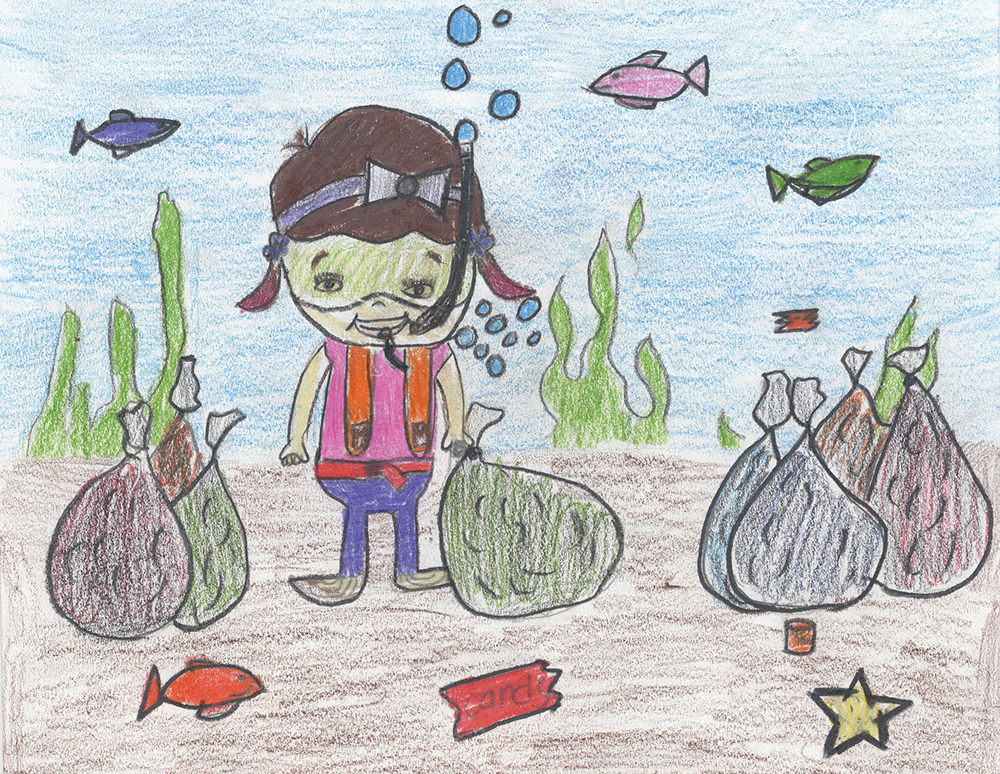 Erika Shrayer of Baldi Middle School won 1st place for the 6th Grade age group last year. Credit: PWD/PDE
When Philly kids understand what it takes to be a good watershed steward from an early age, it can lead to lifelong habits that help to keep trash and other pollution out of our stormwater system and waterways.
That's one reason we hold our annual Green City, Clean Waters student art contest with Partnership for the Delaware Estuary.
Another reason? Our local schools happen to be packed with creative minds, and these kids seem to be especially good at communicating the basics of good watershed stewardship with art that's both direct and fun.
Year after year, we're pleasantly surprised at the quality of the art that comes in, and last year we had over 1,300 submissions. The deadline for 2016 is Friday, February 26.
As with previous competitions, the contest is open to students in grades K-12 attending public, private, charter or home school in Philadelphia. All they need to do is create an original drawing that shows how we all can keep our local waterways clean.
(Don't live in the city? See if your school qualifies for the Schuylkill Street Art Contest.)
Important themes students might want to touch on include:
Keeping our streets free of pet waste, litter and other bad stuff that can get washed into storm drains
Making sure storm drain inlets are free of trash and leaves
Avoiding the use of toxic products like pesticides on lawns and overuse of salt and deicers sidewalks
Planting trees and other vegetation to create natural stormwater filters
One of the coolest things about this contest is the follow-up advertising campaign that uses the winning art to create public service announcements, making it possible for the students to see their own work in places all over the city.
After our judges select four first-place drawings, the winning art will be also be transformed into street art stickers and installed on Philly streets near storm drains, which connect every neighborhood to the local waterway. The top three drawings from each age category will also be included in an annual calendar sent to all participants and featured online.
#CleanWaterArt submissions will be shared on social media and other sites, making the impact of these student-generated messages even greater. Oh, and we almost forgot to mention this: the winning students (and their teachers) can look forward to $50-$100 gift cards at the awards ceremony, to be held this spring.
To learn more and find out how to submit, visit the Partnership for the Delaware Estuary page. We look forward to seeing what this year's student artists dream up! Good luck!
MORE: See PDE's Shaun Bailey talk about the both art contests on Comcast Newsmakers: