Green City, Clean Waters Gets the Green Light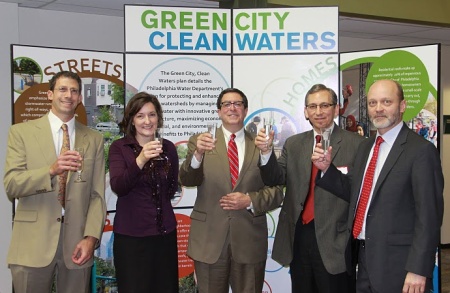 l to r: Adam Bram (PA DEP), Jenifer Fields (PA DEP), Howard Neukrug (PWD), David Katz, Gerald Leatherman (photo: GreenTreks)

"High fives all around."
That's just one of the enthusiastic reactions (from Brady Russell, eastern Pennsylvania director of Clean Water Action, published in today's Philadelphia Inquirer front-page article) to yesterday's historic signing of a consent agreement between the Pennsylvania Department of Environmental Protection and the Philadelphia Water Department to officially approve the Green City, Clean Waters plan. Officials from PWD and PA DEP met in Norristown to raise a tap-water toast and sign the agreement, which validates a 25-year, $2 billion plan to manage Philadelphia's stormwater largely through green infrastructure.
"We are thrilled and grateful that the DEP has recognized the incredible environmental and public value of this plan and has worked with the City to embrace its vision," said Mayor Michael Nutter. "As a sustainable approach to stormwater issues, Green City, Clean Waters upholds the tenets of GreenWorks Philadelphia and makes significant progress towards Philadelphia becoming the greenest city in the country."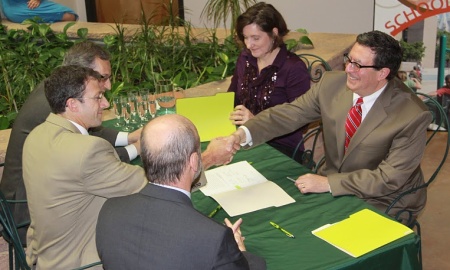 PWD commissioner Howard Neukrug and PA DEP representatives sign the consent agreement.
"Through the Green City, Clean Waters plan, we seek to achieve a host of
tangible environmental, social and economic benefits for Philadelphians
while improving the health of the City's creeks, rivers and urban
landscape," added Water Commissioner Howard Neukrug. "That means not
only cleaner water for our citizens, but cleaner air, a higher quality
of life and meaningful jobs for future generations."
Review the full Green City, Clean Waters plan here.