Life Imitates Art: Green City, Clean Waters Art Contest Ceremony and a Green Grant for Nebinger School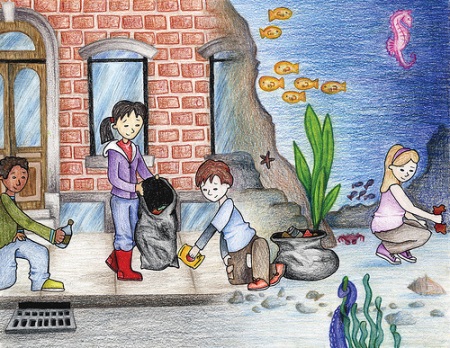 Come out to the Fairmount Water Works Interpretive Center today at 4:00 as we congratulate the winners of the 2012 Green City, Clean Waters art contest. More than 700 entries were received this year, as students illustrated the various ways in which our local waterways become polluted, and how we can work together to make them healthy. First-place drawings such as the one by Liana Spiro of Germantown Friends School (above) will be used in a year-round advertising campaign on buses and subways. View all the winners of the drawing and video contests here. Congratulations to the winners, and special thanks to our friends at the Partnership for the Delaware Estuary for organizing this contest.
But that's not all—in a case of life imitating art, students' depictions of how we restore our waterways will become a reality at George W. Nebinger Elementary School. The school, located at 6th and Carpenter streets in South Philadelphia, will be the center of an international model for green stormwater management and educational programming. Green infrastructure tools in the schoolyard (possibilities include porous play surfaces, rain gardens and stormwater planters) and on nearby streets will serve as an outdoor classroom and laboratory for the school's students. This project is a collaboration between the Philadelphia Water Department, the U.S. EPA and the Partnership for the Delaware Estuary in tandem with the School District of Philadelphia. More details to come!