Lord Whimsy Sets Sail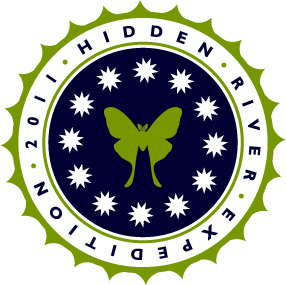 As advertised in this post from a couple weeks ago, author and artist Allen Crawford—otherwise known as Lord Whimsy—has embarked on a 40-mile kayak trip from Mt. Holly, NJ, to Bartram's Garden in Philadelphia. The Hidden River Expedition got underway yesterday morning; visit Lordwhimsy.com for a tracking map and, so far, an audio update. The good news: Lord Whimsy has reached the fork of the Rancocas River, and is searching the area (a prime hunting ground for the Lenape as well as European trappers) for arrowheads. The bad news: He's broken his boat's flagpole.
Stay tuned to Lord Whimsy's site for more updates over the weekend; we'll break down the highlights of the trip early next week.