Philadelphia Inquirer: Love Your River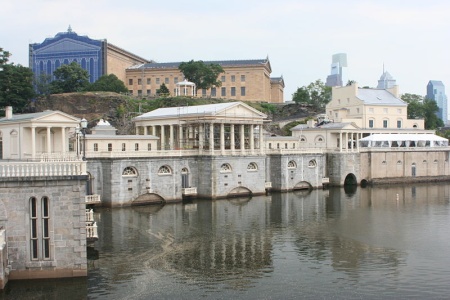 The Schuylkill is a vital part of Philadelphia's social and physical landscape, and the once-mistreated river is on its way back. An article in Sunday's Philadelphia Inquirer—part editorial, part love letter to the river—details the inspiring comeback of one of our city's major waterways. Beth Kephart focuses on the increased hospitality to fish in the river and the development of the Fairmount Water Works Interpretive Center, where plans are underway to improve upon the historic site's appearance and expand its educational capabilities. Kephart took part in a design charrette, in which ideas for the Water Works were discussed:
There were schemes that focused on connections among other area institutions. There were ideas designed to elevate the FWWIC's visibility, via exterior lighting and outdoor sculptures, say, or by the creation of a reflecting pool in the parking lot. There was talk about snaking the river's timeline across the old Water Works floors - a trickle of water, a tale. There was an early sketch of a kinetic waterfall.
The Fairmount Water Works Interpretive Center is free and open to the public: Visitor Information