Philadelphia Water and PowerCorpsPHL: 'Perfect Pipeline' for Green Jobs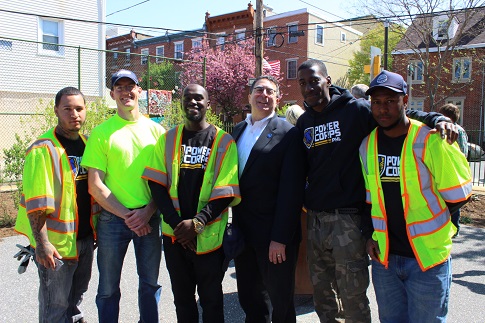 Philadelphia Water Commissioner Howard Neukrug and Philadelphia Water Environmental Scientist Alex Warwood with PowerCorpsPHL workers..
When we talk about Green City, Clean Waters, we like to point out that the 25-year plan has lots of benefits beyond improving our stormwater system. One of those benefits is green jobs.
Because the plan is bringing so much green to so many parts of the city over the next two decades, it has the ability to be a major driver in creating jobs and attracting businesses tied to a 21st century green economy.
We recently got news of a great example of that really happening when we learned that AKRF, one of the country's largest environmental, planning and engineering consulting firms, hired five graduates of Philadelphia's PowerCorpsPHL program, which provides job training opportunities for young adults ages 18-26.
Philadelphia Water is proud to be a "service partner" with PowerCorpsPHL, and their recruits work with us on a daily basis to grow the reach of Green City, Clean Waters, maintain the city's green stormwater infrastructure, and educate residents on the roles they can play in preserving our watersheds. The ultimate goal, of course, is to prepare them for careers in the world of green infrastructure, and AKRF's hires are proof that something is working.
Shandor Szalay, senior vice president and director of AKRF's water resources practice, says Philadelphia Water's PowerCorpsPHL partnership provided the firm with "the perfect pipeline" to fill a growing need created by Green City, Clean Waters. The firm manages contracts that help the city maintain the ever-growing stock of green infrastructure.
"It's been a great experience for us to be able to find people who live in the city and who have been involved with green infrastructure maintenance and know the system," Szalay says. "We can give them a job with a living wage, and instead of being a job that's week-to-week, it a career."
We want to congratulate all of the great people at PowerCorpsPHL for their hard work and dedication, and especially the grads who worked hard and landed jobs that are making Green City, Clean Waters even better.