PWD Answers: What's on the Mysterious Island in the Middle of the Schuykill?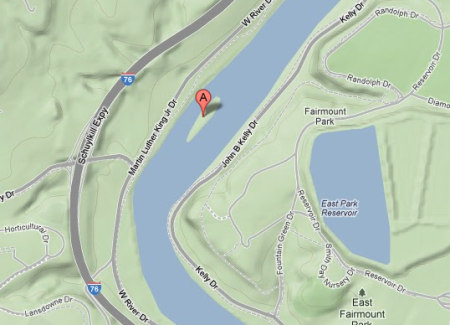 The Philly Watersheds Blog would like to take a siesta from the incessant posting of spokesdog photos to direct your attention toward a recent post on City Paper's Naked City blog. Writer Isaiah Thompson asks PWD's Chris Crockett and Adam Levine: What's the story behind the little island in the middle of the Schuylkill?
Peter's Island, as the little mound turns out to be named (even on Google Maps), has left a surprisingly faint trail in Philly history, considering how long it's been there. Illustrations of it date back at least to the early 1800s (in them, it looks considerably less ominous than it does now). By the mid-20th century, the island had actually ceased to be an island at all, according to Adam Levine, a historical consultant for the Philadelphia Water Department who runs the website PhillyH2O.org. A mountain of sludge — the remnants, Levine says, of a century of coal mining that had washed its way to Philly — had simply extended the river's western bank all the way to the island. It remained a peninsula until some time in the 1950s, when the western channel was dredged back into existence, and the sludge pumped 11 miles southwest to create land in Eastwick, near the airport.
Thompson also discovers firsthand the large population of xenophobic geese living on the island. Check out the whole story here.