PWD's Hurricane Irene Report Card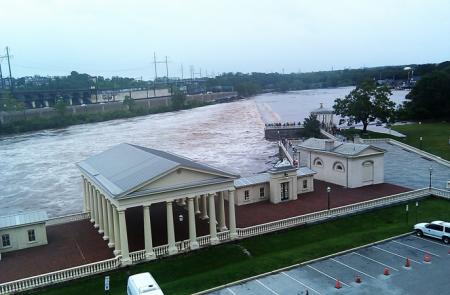 A view of the swollen Schuylkill River at the Fairmount Water Works
As Hurricane Irene blew through Philadelphia last weekend, PWD's water and sewer infrastructure was put to the test. How did we do? Our infrastructure was designed to manage hurricanes and, with notable exceptions in very low-lying areas, the water was kept where it belonged. Even in Manayunk, where the floodwaters inundated Main Street, well-prepared citizens minimized the damage as much as possible.
Maybe it's not really a report card if you're grading yourself, but here's how PWD stacked up by the numbers:
PWD wastewater treatment plants received almost 1 billion gallons of stormwater, more than twice their normal volume, and maintained performance

.

PWD cleared 400 inlets in proactive preparation for Irene, and that number—along with the help of citizens—is, according to Mayor Nutter, "

a great part of why we didn't have as much flooding as we could have possibly had."

More than 55

PWD employees worked over the weekend to answer calls and pump out flooded basements.

The Schuylkill and Delaware rivers crested at 13.5 ft. and 9.77 ft., respectively, in Philadelphia.

Philadelphia held up well overall but with saturated ground, trees did fall, electricity went out, and basements did flood. If you're cleaning up, you're not alone. After the jump, some tips to help with flooded basements.

Flooded Basements

Stay out of your flooded basement, particularly if you have electrical appliances there. You would not blow dry your hair standing in water!

If you have a floor drain, the water will eventually drain.

If you have a large amount of water in your basement or if there is no basement drain, you may need to rent a sump pump to get rid of the water or hire a plumber.

How should I clean the basement?

Shovel mud from the basement as soon as all water has drained or has been pumped out to allow floors and walls to dry.

Remove silt and dirt stains by rinsing concrete walls and masonry foundation walls with a high pressure hose.

If stains remain on the walls, scrub them with a stiff bristle brush and household detergent. Begin at the top and work down. Rinse often with clear water.

Start drying the basement as quickly as possible in order to minimize wood decay or growth of mold.

Open all doors and windows to allow the moisture to flow outside.

Buy or rent a fan or dehumidifier to speed up the drying process.

If you are sensitive to mold or mildew, wear a mask or respirator containing an appropriate filter.

How do I avoid shock hazards?

Be careful before using any electric appliance in a house that has been flooded.

Never turn on wet electric appliances because they may cause an electric shock, overheat, or start a fire.

How do I get rid of odors?
If ventilation does not remove odors:

Mop concrete floor and walls with a bleach solution (3/4 cups of household bleach to a gallon of water).

Rinse and dry after 5 minutes.

Open windows when applying the bleach solution.

Place a lump of dry charcoal in an open tin/metal container to absorb odors.