Soak It In: Photos From Philly's First Porous Street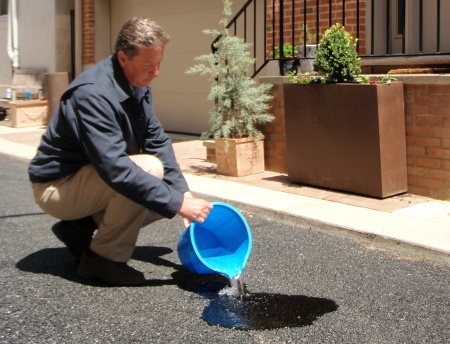 Mayor Michael Nutter, Councilman Frank DiCicco, Deputy Mayor of Transportation and Utilities Rina Cutler, and PWD commissioner Howard Neukrug recently unveiled Philadelphia's first porous green street on the 800 block of Percy Street in South Philly. The porous asphalt replaces traditional impervious asphalt and reduces the amount of stormwater that enters our sewers. Green infrastructure tools such as porous asphalt are part of PWD's Green City, Clean Waters plan to invest approximately $2 billion over the next 25 years to significantly reduce Combined Sewer Overflows (CSOs)—a combination of sewage and stormwater that overflows into our rivers and streams when it rains.
The Percy Street unveiling ended with a water-balloon toss and Mayor Nutter demonstrating how the street functions by pouring a gallon of water onto the asphalt. It worked! More photos after the jump.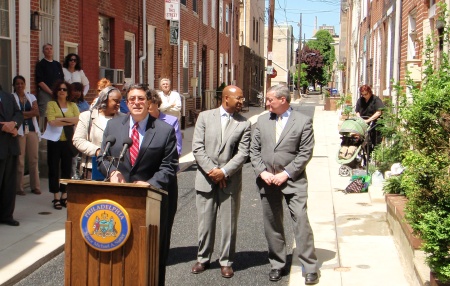 PWD commissioner Howard Neukrug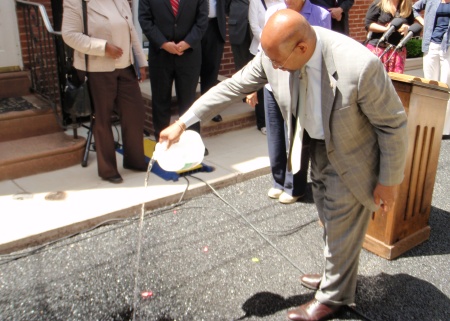 Mayor Michael Nutter performs an infiltration test on the new porous asphalt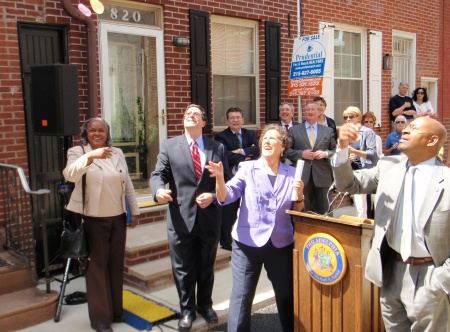 Howard Neukrug, Rina Cutler and Mayor Nutter do a ceremonial water balloon toss