Venice Island Enters Its Final Phase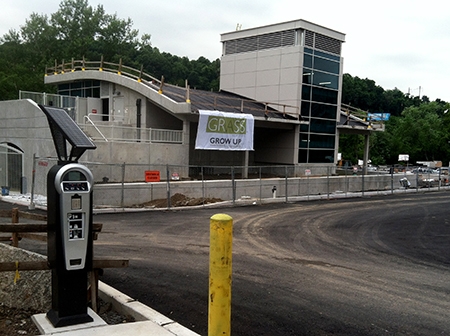 For nearly two years, the Philadelphia Water Department has been working on Venice Island in Manayunk, the site of community amenities including basketball courts, a recreation center and parking. But these facilities have been demolished because this small strip of land between the Schuylkill River and the Manayunk Canal was chosen as the site for an underground storage basin capable of holding nearly four million gallons of stormwater. The project will reduce demands on existing stormwater infrastructure in the Manayunk area and in turn protect and improve the health of the Schuylkill River. In addition to managing stormwater, the project will transform a declining area into a renewed public space. Hidden City wrote a fantastic piece in April that digs deeply into the community aspects of this project.
Indeed, the Water Department emphasized community input in the planning process to develop a design that results in a full-scale reconstruction of the site's parking and recreational facilities. Once completed, the site will include a new performing arts center, a children's play area, a renovated parking lot and athletic courts. What's more, the site will feature a number of green stormwater infrastructure tools including tree trenches and a green roof on the PWD pump house. Furthermore, PWD and Philadelphia Parks and Recreation are working together to make improvements to the Manayunk Canal to restore water flow, which will include dredging and modification to the spillway at Flat Rock Dam.
While two years may seem like a long time, PWD and its contractors are right on schedule and entering the last phase of work. The basin is up and running and the upgraded recreational facilities and parking areas are scheduled to be fully completed by the beginning of next year. Stay tuned for a ribbon cutting ceremony to officially open the public space in April 2014. For more details on Venice Island, head over to the project page.