Venice Island Groundbreaking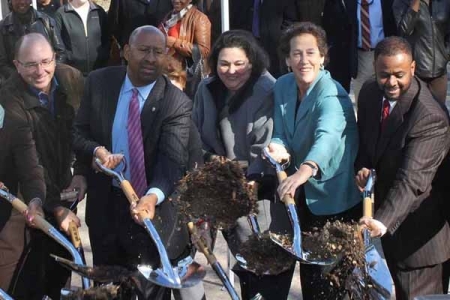 Photo: Matthew Grady/for NewsWorks
On Tuesday morning, Mayor Michael Nutter and other city officials (pictured above) dug in and broke ground on Venice Island in Manayunk, the site of a $46 million project whose main component is a large underground storage basin that will prevent stormwater runoff from entering the Schuylkill River. While Venice Island's "Big Tank" is the star attraction from an infrastructure standpoint (the basin can store nearly 4 million gallons of water), the initiation of a host of other projects in and around Manayunk—from trail improvements and murals to stormwater management projects—were also celebrated.
From WHYY's NewsWorks article:
"Joanne Dahme, Public Affairs Manager for PWD, discussed the intent of the Venice Island project, saying that while the thrust of the project is 'all about protecting the water for residents of the city,' she was quick to point out potential for recreation at the site.

'There are incredible recreational opportunities here,' said Dahme, adding that she envisions the river becoming increasingly "fishable, swimmable, and drinkable.'"
In addition to the underground basin, the Philadelphia Water Department is also overseeing construction of a pump house on Venice Island with a green roof and is undertaking improvements to the Manayunk Canal. Stay tuned for more details on those projects. For additional information on Venice Island and to sign up for e-mail updates, visit our Venice Island page.