Big Green Block: Phase II Complete!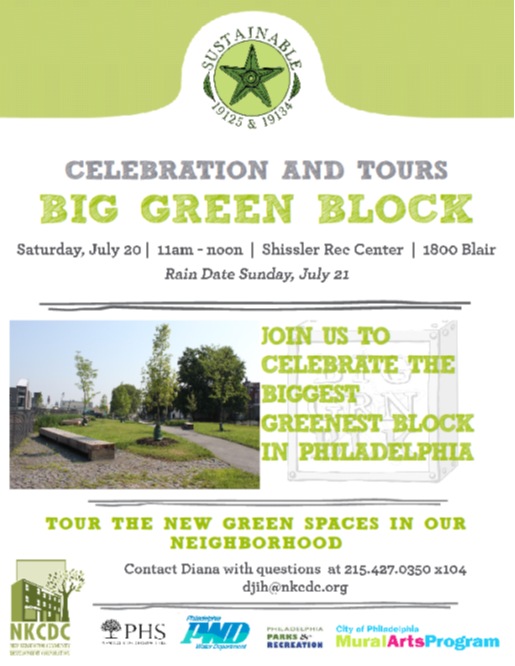 Philadelphia zip code 19125, known for the community's dedication to sustainability, will celebrate the latest improvements to the Big Green Block on Saturday, July 20th with an official ribbon cutting event. The Big Green Block is a large collaborative project between the New Kensington CDC, the Philadelphia Water Department, Philadelphia Parks and Recreation and the Mural Arts Program.The first phase of theproject turned the Kensington School of Creative and Performing Arts (CAPA) into a 'green' hub, becoming the first high school in the country to earn LEED platinum certification. Along with the school, Shissler Recreation Center has ball fields, a basketball court, tree trenches and rain gardens, all managing stormwater runoff and pollution. Additionally, phase two of the project has enhanced the site with a new spray park, dog park and more!

On July 20th From 11 a.m. to noon, the New Kensington CDC will honor and celebrate the collaboration with public tours of the site. If you are interested in learning about how you can manage stormwater at your own home, arrive early for a rain barrel workshop, hosted by the Climate and Urban Systems Partnership (CUSP), at 9 a.m. Meet for all at the Shissler Recreation Center, 1800 Blair Street. Note, the rain date for this event is July 21st.

For any questions or concerns, please contact Diana at NKCDC, 215-427-0350 x104 or djih@nkcdc.org.