Calling landscapers and home contractors! Join our Rain Check Team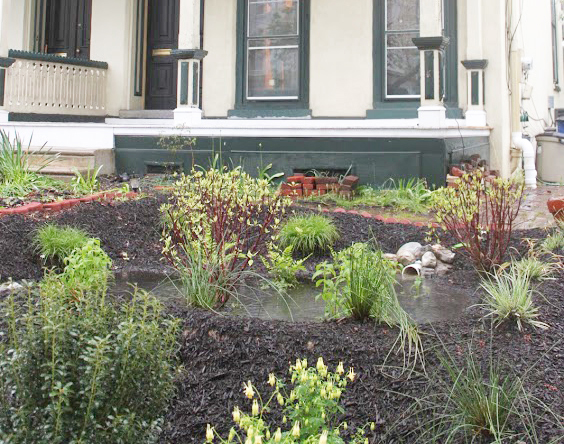 A rain garden installed by Rain Check contractors. We're looking for qualified contractors to install these stormwater tools. Credit: Philadelphia Water
Philadelphia Water, the Pennsylvania Horticultural Society and Sustainable Business Network are looking for qualified contractors to work with the Rain Check program. Through Rain Check, Philadelphia Water provides free rain barrels and helps residents pay for landscaping tools that manage stormwater and can beautify their properties.
We need qualified contractors to install stormwater tools such as rain gardens, permeable pavers, downspout planters and rain barrels.
Installation contractors may be landscapers, hardscapers, general home contractors, and professionals from related fields.
Benefits include: free or reduced-cost training, affiliation with our innovative Green City, Clean Waters program, paid consultations, and new customer leads without the cost of advertising. Rain Check work is not intended to be full time, and pairs well with an existing workload.
Depending on participant demand, active contractors can expect to earn $10,000-$35,000 per year. Work will begin in July for qualified contractors.
To be considered for Rain Check, any interested contractors should join us for an upcoming information session to learn more about the program and meet current contractors.
Date: February 12, 2016

Time:

Info Session: 8 – 8:45 a.m.
Contractor Meeting: 9-11 a.m.

Meeting Location:
PHS Board Room
100 N 20th Street- 5th Floor
RSVP by February 10th at archive.phillywatersheds.org/raincheck
More Detailed Information on the Positions:

Rain Garden and Permeable Paver Position Description
Rain Barrel and Downspout Planter Position Description