Economic Benefits of Philadelphia Water's Green Approach = Icing on the Cake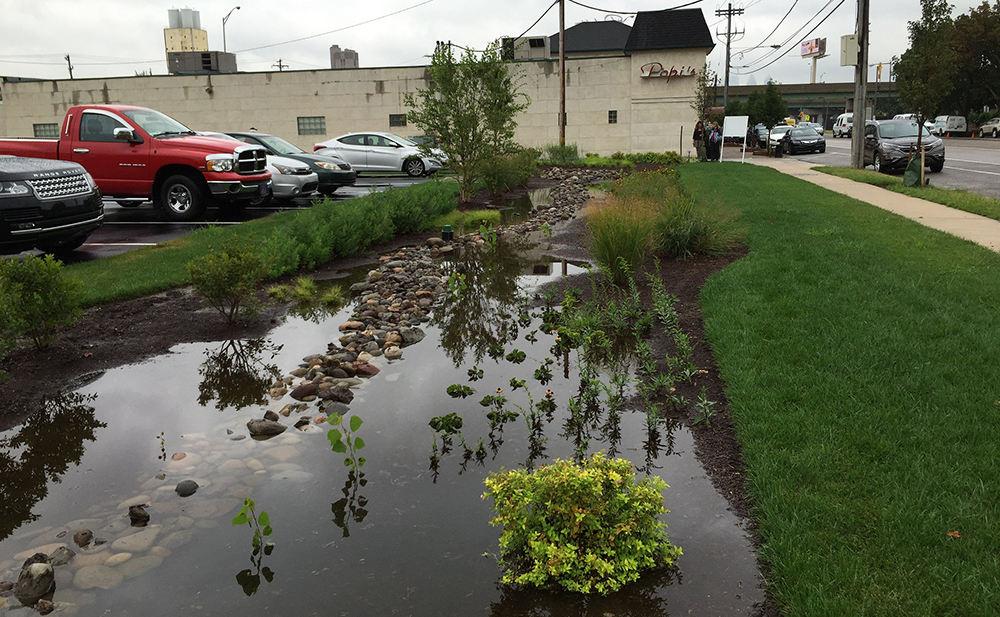 This rain garden is making our rivers cleaner while adding value to a South Philly business and block. Credit: Philadelphia Water.
Here at Philadelphia Water, every piece of our expansive, 3,000 mile stormwater system works towards toward one goal: effectively managing the water in our city that comes from storms, whether they're summertime cloudbursts or January blizzards.
Managing stormwater is a critical and necessary task for any city. In Philadelphia, we address stormwater both to protect our neighborhoods from flooding and to protect our drinking water sources, the Delaware and Schuylkill Rivers, from pollution.
We don't get to choose whether or not we deal with stormwater. But, with our innovative 25-year, multi-billion dolar Green City, Clean Waters program, we're finding new ways of managing that water that can have additional benefits for neighborhoods—and maybe even Philadelphia's economy too.
To us, that's just icing on the cake. But for Philadelphia's growing green economy, Green City, Clean Waters could be an important driver of new jobs and opportunities.
The Sustainable Business Network of Greater Philadelphia —which created its Green Stormwater Infrastructure Partners group in part to support businesses meeting the new demand created by Green City, Clean Waters—just released a 45-page report looking at the economic impact of the program's first five years, and they're encouraged by what the future may hold.
As advocates for many of the private partners we work with to make Green City, Clean Waters a reality, we applaud SBN's efforts to measure the economic pros of taking a green approach.
Any investment in our stormwater infrastructure, whether it's green or gray, has the potential to create jobs and other economic impacts. That's especially true when you have an investment on the scale of our green infrastructure program, which also happens to include a range of traditional infrastructure upgrades, such as expansion of our Water Pollution Control Plants and the creation of new tunnels and storage areas that will help us manage excess stormwater and make our rivers cleaner.
In the first five years of Green City, Clean Waters, public and private projects have created over 750 "Greened Acres," a term used to describe space in the city where stormwater is now managed by green infrastructure tools. Our goal is create over 9,500 Greened Acres in the city by 2036.
It's hard to predict what the economic impact of meeting that goal might be, but clean rivers are an invaluable asset that every city wants to have, and Green City, Clean Waters achieves that even if it achieves nothing else. In just five years, we've managed to build enough green to keep 600 million gallons of stormwater pollution and sewer overflows out of our rivers each year.
And, while our biggest stormwater priority remains protecting our communities and rivers through smart management and planning, we look forward to seeing how this bold program will shape our city over the next 20 years.
You can see the report here, and SBN will be presenting their Green City, Clean Waters findings to City Council on Feb. 24.
Have a story about how Green City, Clean Waters has improved your neighborhood or job prospects? Tell us in your own words by email Questions@phillywatersheds.org!