Frankford Depaving Project Is Complete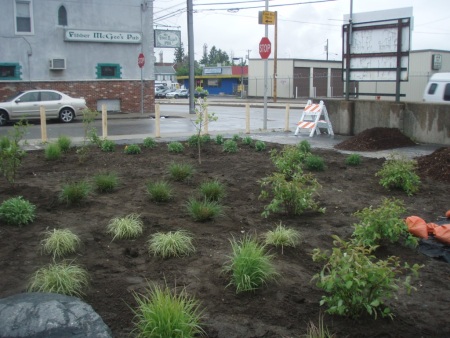 Yesterday, a group of volunteers braved the wet weather to plant the final two rain gardens at a partially depaved lot at Eadom and Bridge streets (just west of I-95) in Frankford. A crew including employees of the Philadelphia Water Department and GreenTreks, along with volunteers from the NorthEast Treatment Center, planted almost a dozen varieties of vegetation (including sedum, switchgrass, Virginia sweetspire and Viburnum) and brought the total number of rain gardens in the lot to six. In all, the Eadom Street project has converted 10,000 square feet of impervious concrete to rain gardens that allow stormwater to infiltrate the soil instead of flowing into our sewers. The rain gardens will manage stormwater runoff from two acres.
Learn more about depaving.
More photos of yesterday's planting after the jump.