It's a Wrap! Congratulations to our Rain Barrel Artists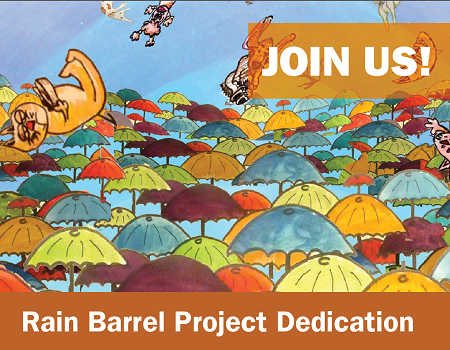 With over 800 votes, the results for our Rain Barrel Wrap contest are in! Congratulations to the top three winners: Philly Pride, Cats and Dogs and Liquid Motion.
Students between the ages of 11 and 21 from Laura W. Waring School and YESPhilly participated in a design workshop with artists from the Mural Arts Program and educators from Fairmount Water Works Interpretive Center and the Philadelphia Water Department to create exciting original artwork that will be wrapped around a limited number of rain barrels. We hope this artwork will help bring attention to small actions in stormwater management (like installing a rain barrel) that can make a big difference.
Thanks to everybody who voted to help select the top three student designs. You are invited to the Fairmount Waterworks Interpretive Center for the Water Department and Mural Arts dedication where we'll recognize the winning artists. The dedication is scheduled for Thursday, March 14th at 4:00 p.m. right behind the Museum of Art on the Schuylkill River in the Fairmount Water Works Interpretive Center at 640 Water Works Drive. Please send RSVPs to jameson.paige@muralarts.org.
Philly Pride by Titus Edwards (YES Philly)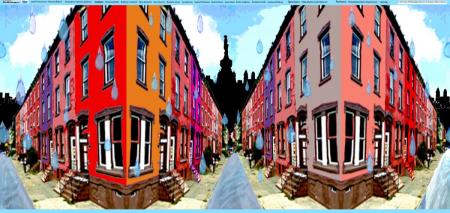 Titus' idea for this design came from a classroom conversation about pride in Philadelphia. For him, pride in the City comes from the people in his community. He chose the typical rowhomes of ordinary people as a symbol of Philadelphia community pride.
Cats and Dogs, a class collaboration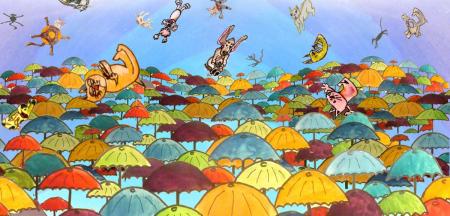 This design is a playful interpretation of the old saying, "It's raining cats and dogs!" Students created a whimsical image by using bold colors and drawing a variety of cats and dogs.
Liquid Motion, a class collaboration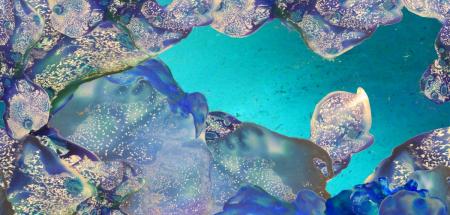 For this design, students chose blues and greens to represent water. They mixed these colors with glue, let them dry and photographed them against a light, giving the photographs a water-like translucency.