Join us at the Science Fest this Weekend and Celebrate 5 Years of Green City, Clean Waters!
How Do You Play a Part in the Green City, Clean Waters Plan for the Future? Find Out at Science Fest!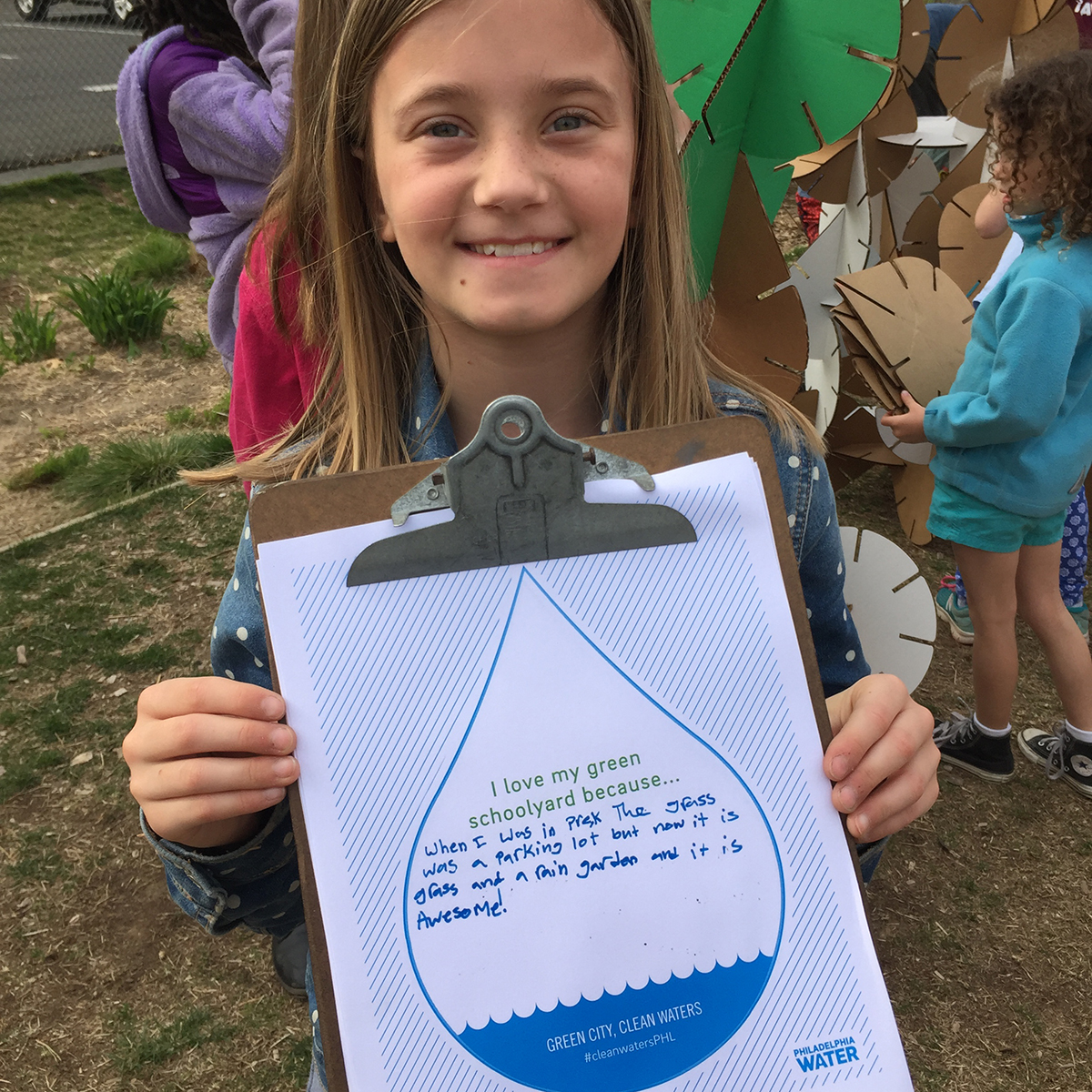 Students filled out cards that let them tell their Green City, Clean Waters story on Earth Day. You can take part and tell your story at Science Fest! Credit: Philadelphia Water
This Saturday, Philadelphia Water will be celebrating the fifth year of Philly's revolutionary 25-year Green City, Clean Waters program at the Franklin Institute Science Carnival, part of this year's Philadelphia Science Festival.
As it happens, the event will be at Penn's Landing along the banks of the Delaware River, one of the waterways that will benefit the most as Green City, Clean Waters continues to grow over the next 20 years.
The Green City, Clean Waters display will be located in the "Climate City" section of the Science Carnival—a great place for a program that helps to reduce the greenhouse gases that cause climate change and helps build Philadelphia's resilience to a warmer and wetter future. Philadelphia's stormwater management approach, with a focus on green infrastructure, can be more easily modified to accommodate changing climatic conditions when compared to approaches that focus on traditional gray infrastructure, such as underground storage tanks and tunnels, alone.
Since 2011, we've worked with partners ranging from other City departments to private developers to create over 1,200 green infrastructure sites in Philadelphia neighborhoods through the Green City, Clean Waters program and stormwater regulations.
On public property alone, there are over 500 projects featuring more than 1,700 green tools and 1,800-plus new trees. Combined, all of the Green City, Clean Waters projects built over the last five years will keep over 600 million gallons of polluted water out our rivers and streams this year.
We are celebrating that accomplishment to thank all of the people, businesses and partners at the City, state and federal level who have made the success of this bold program a reality. And, as big as Green City, Clean Waters has become in the last five years, it will only continue to grow and make a bigger impact on water quality in the remaining 20 years of the program.
We would love for you to stop by and see us at Climate City to learn more about how we are working toward even cleaner rivers and streams by making our neighborhoods greener, better places to live.
We will be at the Carnival from 10:00 a.m. to 4:00 p.m., and you'll have a chance to share your support for Green City, Clean Waters with special cards and photo.