MLK Day of Service Will Help Philly Rivers. Here's How: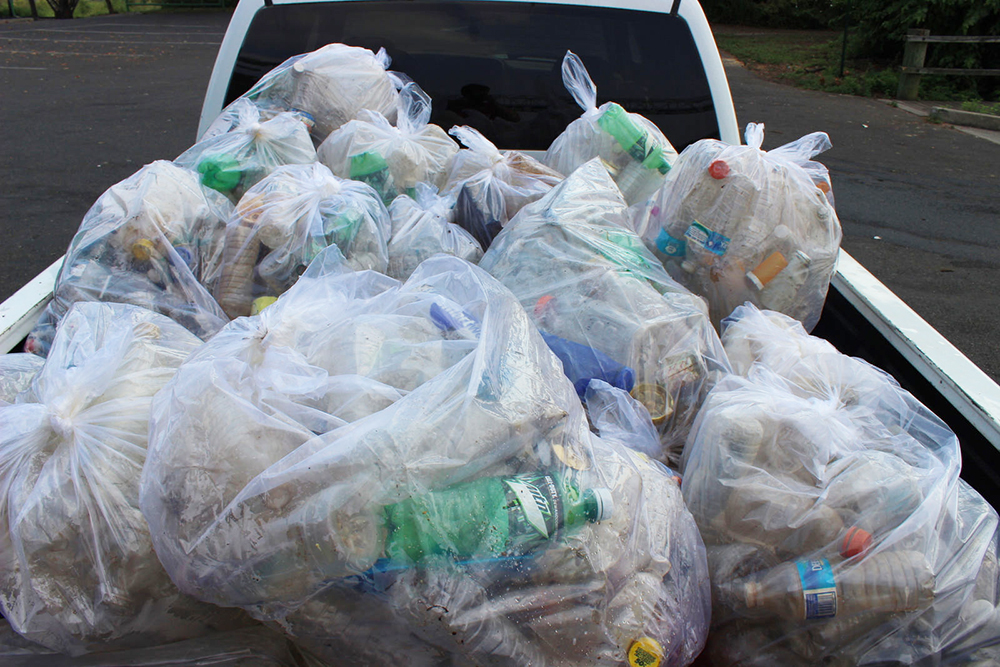 Dozens of bags of "floatable" trash pulled from the Delaware River during a 2015 volunteer cleanup. MLK Day of Service volunteers who participate in neighborhood trash removal will also be helping our rivers because cleaner streets = cleaner creeks and rivers. Credit: Philadelphia Water.
As far as resumes go, Dr. Martin Luther King Jr.'s is pretty hard to top.
A 200,000-person march on Washington that was crucial in helping to pass the Civil Rights Act? Check.
A year-long bus boycott that eventually led to a Supreme Court ruling declaring segregated buses unconstitutional? Check.
The list of Dr. King's accomplishments is long, but one thing you don't hear too much about is King the environmentalist. But that doesn't mean there aren't connections between his activism and the green movement that helped to bring us transformational legislation like the Clean Water Act.
Despite the fact his 1968 assassination predated the first Earth Day by two years, many credit MLK's work as laying the foundation for the environmental justice movement—a movement guided by the belief that all people, no matter their race or income level, have an equal right to things like safe, clean drinking water and health-promoting green space.
No matter how you think of Dr. King's legacy, the fact is, much of the work that will be done in his honor during the Greater Philadelphia Martin Luther King Day of Service—an event being touted as the biggest MLK Day volunteer effort in the nation—will help our rivers.
How?
Many of the planned events involve work that will remove litter from our streets, parks and other community spaces. And, while litter is often seen as a problem impacting our neighborhoods, it's also a stormwater pollution problem because so much of the trash on our streets will eventually end up in our rivers.
We often talk about stormwater as a "polluted mixture" that hurts the watersheds we depend on for drinking water and wildlife habitats. That "mixture" contains many harmful things that get picked up as water from storms and snow makes its way from our streets and storm drains to our rivers. Trash, of course, is the most visible part of stormwater pollution. It's also the easiest kind of pollution for people to address—most of us, after all, can pick up litter when we see it.
Through both the efforts of Philadelphia Water and our volunteer events, we've literally pulled tons (over 40 tons a year, to be exact!) of trash from the Delaware and Schuylkill rivers each year. We also regularly clean out traps in storm drain inlets that are designed catch trash, but a big part of litter problem in our rivers and creeks comes from what are known as "floatables."
This photo, taken by the crew of our trash-skimming boat, is a perfect example of street trash that became river pollution:
Sad + striking photo today from our river cleaning crew. Why we #DrinkTapPHL https://t.co/nF9Bbm3IXP #CleanWatersPHL pic.twitter.com/WW6qnjePFG

— Philadelphia Water (@PhillyH2O) November 3, 2015
Floatables are basically any type of trash that doesn't sink (think plastic bottles with the lids still on and Styrofoam cups). This kind of litter is especially problematic because it's so hard to separate from water and organic matter like leaves, and it's the pollution that leads to those infamous garbage patches in the ocean.
We're currently working on programs and partnerships that will boost our ability to address floatable pollution in our rivers in the coming year. However, the easiest way to deal with this type of litter is keep it out of the water system in the first place.
In addition to the many MLK events that will focus on cleaning up our neighborhoods, several watershed groups are planning cleanups that target areas surrounding our local waterways:
You can look up and join hundreds of other local volunteer events at the MLK Day of Service website. There, you will find information about events like Global Water Alliance's Model United Nations Conference, which asks students to write a letter to Mayor Kenney regarding stormwater management in the city.
Whatever you do to honor Dr. King's legacy, we hope you'll make the fight against litter a year-round, lifelong commitment. Cleaner streets mean cleaner creeks and rivers, and we think the people of Philadelphia have a right to both!
MORE: Click here to find your watershed + connect with groups that host cleanups and other watershed stewardship activities!