Study Shows Evidence of "Triple Bottom Line" Effects of Green Stormwater Infrastructure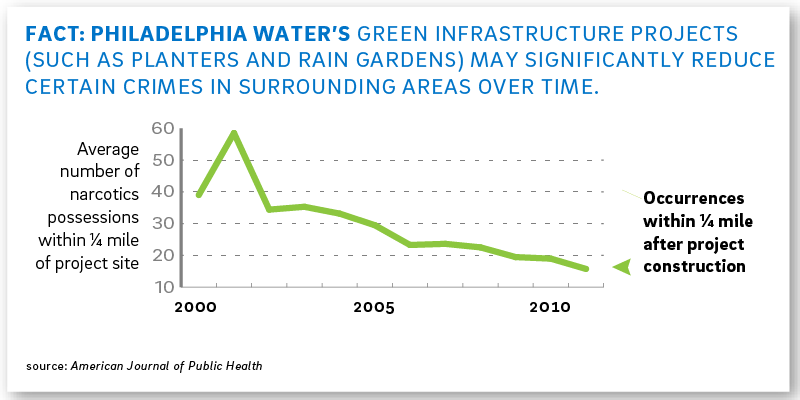 When we started the 25-year Green City, Clean Waters plan in 2011, the idea was that we could better manage our stormwater and reduce combined sewer overflows by leading with green infrastructure, as opposed to only using gray infrastructure, and that it would also have additional social and economic benefits. We call it our "triple bottom line" approach. While the environmental benefits (good news—we're on track to meet our environmental targets for year five of the plan!) and economic benefits are quantifiable, the social benefits are harder to measure. But a recent study, published this January in the American Journal of Public Health, indicates that the green stormwater infrastructure we've installed in Philadelphia does, indeed, have social benefits as well.
The study, led by Michelle Kondo, formerly a postdoctoral student at the University of Pennsylvania's Center for Clinical Epidemiology and Biostatistics and now a scientist with the U.S. Department of Agriculture Forest Service in Philadelphia, looked at 52 green stormwater projects in Philadelphia and found consistent and statistically significant reductions in narcotic possession and manufacture, as well as burglaries near those sites.
These impressive results caught the eye of the Inquirer's Sandy Bauers, who featured the study in her regular GreenSpace column:
[Kondo] and her colleagues, including Penn epidemiologist Charles Branas, who had studied vacant lots, compared the 52 sites with 186 similar areas where projects were planned but not yet built. They factored in socioeconomic data from the census, crime statistics, and health data.

Their results, published in January in the American Journal of Public Health, were an eyebrow-raiser. Between 2000 and 2012, incidents of drug possession at the project sites dropped by as much as 27 percent compared with the control sites.

As far as a half-mile away, "we saw a significant reduction," Kondo said.
The study controlled for a number of other factors—gentrification, general improvements in quality of life, etc.—that had occurred over the 12 years of the study and yielded a strong positive correlation between the presence of a Green City, Clean Waters project and incidents of drug possession.
Clearly, there's still more studying to be done so we can determine links to other improvements in overall quality of life measures and reductions in crime, but these initial results are very promising! Studies like this help demonstrate the return on investment for each individual green infrastructure project and that the triple bottom line approach is truly paying off!