'Uncover the Green' Lids Highlight the 'Underdog' of GSI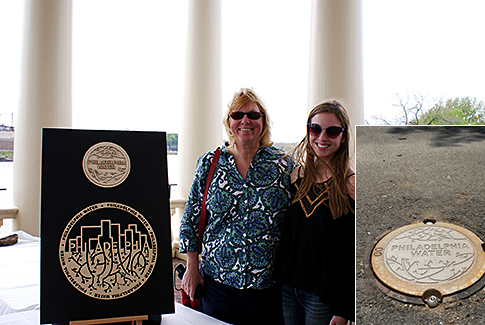 Inset: a new "Uncover the Green" clean out lid. Laura Hoover (at right) poses with her winning design at the Fairmount Water Works.
If anyone ever said infrastructure can't be functional and eye-catching, we're proving them wrong.
Over the last week, our Green Stormwater Infrastructure Maintenance team (GSIMN) has been busy installing artistic "clean out covers" that aren't just essential for our green tools and sewers—they're also downright beautiful.
Like Waterways, a temporary street art installation that debuted in Manayunk in May, the new clean out lids use art as a way of speaking to residents about the importance of green infrastructure investments and highlight the presence of green tools in neighborhoods.
The sidewalk and street installations, which incorporate "Philadelphia Water" and an intricate tree branch pattern, are the fruit of our 2014 "Uncover the Green" student design competition. In the coming weeks and months, 1,000 of the new engraved cast iron covers will be placed over access points that allow maintenance crews to inspect and clean the hidden but crucial components of GSI that capture stormwater.
The covers were designed by Tyler School of Art's Lauren Hoover, who was an undergraduate student when her submission was selected by design professionals, outreach experts and various government agency representatives in May 2014. Hoover also won the People's Choice Award, voted on by participants at an Uncover the Green award ceremony held at the Fairmount Water Works. Over 40 students submitted designs, and Hoover's work was selected from among eight semifinalists.
The citywide contest was held in conjunction with the Mural Arts Program and sponsored by NextFab and Fleisher Art Memorial.
With the distinct new lids, residents will have one more way to spot the green stormwater tools that enhance the beauty of our neighborhoods and make Green City, Clean Waters work.
Alex Warwood, an environmental scientist in Philadelphia Water's Office of Watersheds who oversees the Aesthetic Maintenance Program through a partnership with PowerCorpsPHL, says the hidden subsurface components don't get the same attention as the lush, highly visible "living landscapes" of surface components seen in tools like tree trenches and rain gardens.
But without these access points, which are unique to Green City, Clean Waters installations, Warwood says much of the infrastructure wouldn't operate properly. The GSIMN team routinely removes the covers and uses cameras to inspect pipes that distribute stormwater evenly throughout tree trenches and other green tools. If something is blocking the pipes and preventing the infrastructure from operating properly, crews will flush the system or use powerful vacuum hoses to restore the flow. Most structures get cleaned out at least once a year.
"The subsurface components of many of our GSI systems are sort of the underdogs of our green tools," says Warwood, "and they are absolutely critical for them to work. The new lids help promote Philadelphia Water's green infrastructure, and they help the average resident to see that there's much more to GSI than just the plants on the surface. Some of the most important functions are happening where people can't see them, and these covers are a really cool way to draw attention to that."
So, next time you're out for a walk and you notice one of these new designs on the sidewalk, take a look at the green infrastructure around you—this is your invitation to uncover the green and discover Green City, Clean Waters!