We're Preparing for Heavy Rains – You Should Too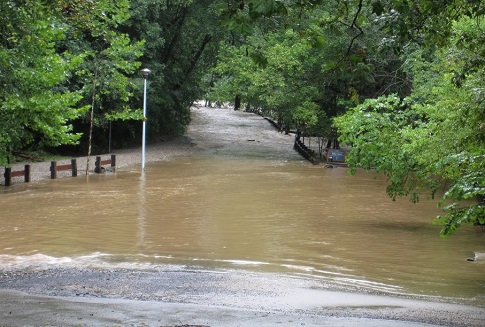 Flooding seen along Forbidden Drive in Fairmount Park during Hurricane Irene in 2011. In that storm, the Schuylkill River hit a high water mark not seen since 1869. Photo Credit: Philadelphia Water.
Whether Joaquin is a hurricane, tropical storm, or something else by the time that system reaches us, chances are we'll see some intense rain. Philadelphia Water has been preparing for the upcoming heavy rain events by clearing inlets in low lying areas and inspecting other inlets to make sure they are clean.
We're also working to make sure any intersections we know may typically flood will be closely monitored in case they need to be closed off due to high water levels. Our staff will monitor river levels for any tidal flooding that may occur, and have crews working to maintain our systems during these intense rain events.
Here are several tips to help ensure our customers (that's you) are prepared for the storm too:
• Make sure if you live in a flood-prone area that you remove all valuables and electronic equipment from your basement floors. If you have had basement flooding in the past, you'll want to make sure that items are placed on a shelf at least higher than the last high water mark, or bring it to a higher floor.

• Do not enter your basement if there is standing water, as the risk of electrocution exists. You should always wait until the water subsides.

• Do your best to seal any floor drains, as the water from the sewer would typically back up through the lowest point in your home.

• If you have sewer backups into your basement, you'd want to make sure you sanitize your basement properly. One quarter cup of bleach per gallon of water is recommended to clean all surfaces that any water touches. Make sure you properly dry the basement as well to help reduce the risk of mold buildups.

• You should always have bottled water in your home as well as flashlights and batteries in case of a loss of power.
Philadelphia Water always asks our customers to be our eyes on the ground, and you can assist us in spotting any trouble areas we may not be aware of. Should you see a flooded intersection, or if you're receiving water in the basement from plumbing fixtures, call us at 215-685-6300. This information is vital to keep records of flood locations and how these storms impact our systems. We would also be able to monitor those inlets should they be part of the reason for any street flooding, not necessarily sewer backups.
If you're a customer and you experience any basement flooding through your fixtures, you may be eligible for our Basement Backup Protection Program. Call our hotline to get more information on this free program at 215-685-6300.
And remember, above all, be safe and take flood and weather warnings seriously!