Wrapped Rain Barrel Program
Wrapped Rain Barrel Program

Does your workplace, church or organization want to do its part to help manage stormwater runoff? Philadelphia Water and the Pennsylvania Horticultural Society provides free rain barrels to qualifying businesses and organizations through their Wrapped Rain Barrel Program. These limited edition barrels come wrapped with student artwork and help reduce pollution in our creeks and rivers. If your organization meets the criteria below, you may receive one of these designer barrels for free!
There are a limited number of wrapped rain barrels so we are only able to provide one wrapped barrel per property. PWD reserves the right to make the final decision on whether you recieve a rain barrel.
Click here to download our fact sheet about the program.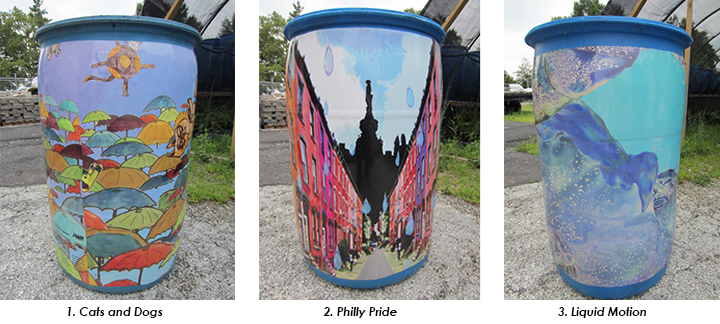 Step 1 - Meet the Criteria:

The rain barrel must be installed where it is visible to people passing by.

Your downspout must no be made of a material that is difficult to drill, such as cast iron.

You agree to maintain the barrel.

You agree to drain or use water from the rain barrel after every rain event. Use it to water your plants, lawn, etc.

If the barrel will sit on soft grass or soil, you must be willing to make or purchase a base for the barrel prior to installation.

You undestand that the water from this barrel is not suitable for human or animal consumption.
Step 2 - Pick a Design!

If you meet the criteria, choose one of the three designs for your site.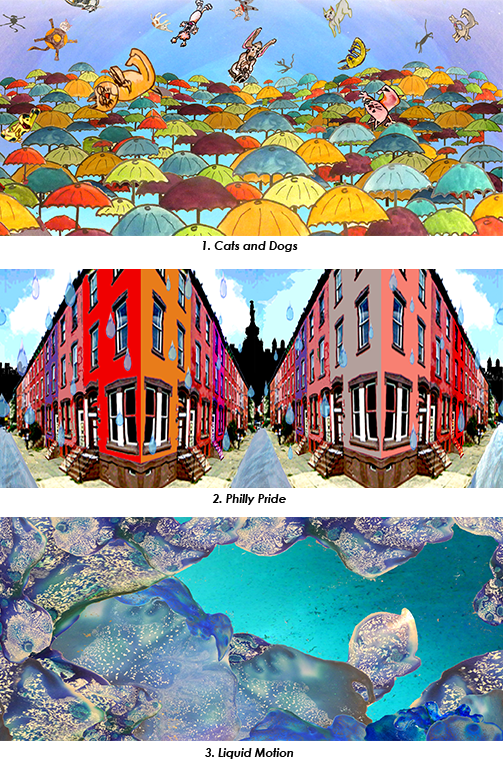 Step 3 - Contact Us

Please contact us so we can approve your site and get the installation scheduled:
Jeanne Waldowski, Community Initiatives Specialist:
215-685-4945
jeanne.waldowski@phila.gov
About the Artists:




In 2012, students between the ages of 11 and 21 from Laura W. Waring School and YESPhilly participated in a design workshop with artists from the City of Philadelphia Mural Arts Program and educators from Fairmount Water Works and Philadelphia Water. They created artwork to be wrapped around a limited number of rain barrels. Three designs were chosen to be printed on the barrels and these colorful wraps draw attention to small actions in stormwater management (like installing a rain barrel), which can make a big difference!


Check out this video, created by Marcus Balum at Mural Arts, that showcases all of the designs created by students. You can read more about the artists and the three winning designs on our blog.
General Information about Rain Barrels:

We recycled 55-gallon food-grade plastic barrels. No barrels that have been used for toxic or harmful materials.
Dimensions: Each rain barrel is approximately 22.5" diameter and 36.5" in height. The barrels "bow out" in the middle to a diameter of about 24".
Rain barrels are fully installed by PHS, including spigots, gaskets, and a downspout diverter.
PWD rain barrels are completely sealed. No need to worry about mosquitoes!
Maintenance - our rain barrels are very low maintenance. In the winter, you should completely drain your barrel and detach it from the downspout. A winter plug is provided to seal the hole in your downspout.
Do you want a rain barrel for your house? Check out our Rain Check Program, which helps residents manage stormwater at their homes. To get a free rain barrel or check out the other stormwater management tools available, Sign up for one of our Rain Check workshops!