Darby-Cobbs
Overview
The Darby-Cobbs Watershed drains approximately 77 square miles, including portions of Chester, Delaware, Montgomery, and Philadelphia counties. The headwaters of the Cobbs Creek subwatershed begin in three distinct places: East Branch Indian Creek springing up in a small residential neighborhood in Narberth Borough; West Branch Indian Creek in Lower Merion Township in Montgomery County; and Cobbs Creek in Haverford Township, Delaware County. In total, Cobbs Creek weaves its way through 10 municipalities until it meets with the mainstream Darby Creek in Colwyn Borough, where it then dashes down to the John Heinz Wildlife Refuge in Tinicum. The watershed is often subdivided into the Cobbs Creek, Darby Creek, and Tinicum subwatersheds for planning purposes.
The Cobbs Creek Watershed has something for everyone to discover. In addition to many historical and diverse neighborhoods, active and passive recreational activities can be found along the Cobbs Creek and in the surrounding area, connecting you with your watershed neighbors.

Fast Facts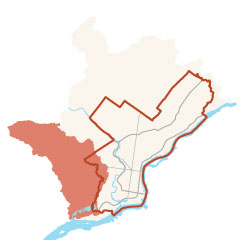 Area
The entire watershed drains approximately 77 square miles; The Cobbs Creek subwatershed is approximately 22 square miles.
Stream Miles
Darby Cobbs watershed contains approximately 135 linear miles of streams, about 33 miles of which are in the Cobbs Creek subwatershed.
Population
The watershed as a whole is home to about 460,000 residents, but population density is much higher in and near the City of Philadelphia. About 230,000 people, or half of the watershed's residents, live in the Cobbs Creek subwatershed.
Impervious Cover
Impervious cover is estimated at 45 percent.
Counties / Municipalities
The watershed encompasses areas of Chester, Delaware, Montgomery, and Philadelphia counties, with all or parts of 31 municipalities, including Easttown, Tredyffrin, Aldan, Clifton Heights, Collingdale, Colwyn, Darby, East Lansdowne, Folcroft, Glenolden, Haverford, Lansdowne, Marple, Millbourne, Morton, Newtown, Norwood, Prospect Park, Radnor, Ridley Park, Ridley, Rutledge, Sharon Hill, Springfield, Tinicum, Upper Darby, Yeadon, Lower Merion, and Narberth.
Within the Darby-Cobbs Watershed exists a myriad of spirited residents, community groups, businesses, and institutions that advocate partnership opportunities to protect and enhance watershed and waterway resources. Learn more about these stewards, their initiatives, and how you can make a difference in the Darby-Cobbs Watershed.
Watershed Resources
This dynamic map will enable you to see the specific locations of featured projects and PWD initiatives within this watershed.
Take our Watershed Tour to see notable landmarks and hidden treasures that define the character of this watershed's past, present and future. Or get a glimpse of the creek itself through our Waterway Tour.
Source water protection and the development of water and stormwater infrastructure helped shape the character of our watersheds. Understanding this history is fundamental to stormwater management strategies and other site development regulations we implement today.
These core documents and maps reflect the research and planning we've conducted in order to assess the condition of this watershed and strategize future improvements.
A wealth of data is available for you to learn more about the health and quality of this watershed's waterways.
In 2004, PWD published the Cobbs Creek Integrated Watershed Management Plan, which identified the following issues:
Trash-filled, unsightly streams that discourage recreational use
Safety concerns along stream corridors
Degraded aquatic and riparian habitat
Limited diversity of fish and other aquatic life
Periodic, localized occurrences of low dissolved oxygen primarily associated with plunge pools and areas of stagnant water behind dams
Utility infrastructure threatened by bank and streambed erosion
Limited public awareness and sense of stewardship for Cobbs Creek
Little volume control and treatment of stormwater flows in separate sewered areas
Dry Weather Water Quality Concerns (bacteria)
Wet Weather Water Quality Concerns (metals, sediment, bacteria, dissolved oxygen)
The Partnership has collaborated on a number of on-the-ground implementation initiatives and demonstration projects, including porous pavement installation at a municipal basketball court and a parking lot at a municipal complex, as well as the greening of a street that forms the "gateway" between the City of Philadelphia and Delaware County.
PWD completed a wetlands assessment of the entire watershed in 2006, documenting the presence of existing wetlands and identifying wetland creation opportunities.
In 2004, PWD restored 900 linear feet of stream near Marshall Road with the installation of j-hook vanes and rock vanes, constructed riffles, boulder bank stabilization, abutment removal, and sewer protection.
An Integrated Watershed Management Plan (IWMP) was completed for the Cobbs portion of this watershed area in the summer of 2004.
PWD partners with the United States Geological Survey (USGS) to provide real-time water quality data from two USGS Gage Stations within this watershed. PWD-USGS Water Resources Monitoring website:http://pa.water.usgs.gov/pwd/.
PWD completed the Darby-Cobbs Watershed Comprehensive Characterization Report in 2004. This report contains detailed monitoring and modeling results, including hydrology, water quality, biology, physical habitat, and pollutant loadings.
The PWD Model Neighborhoods Initiative includes the Haddington and Cobbs Creek neighborhoods in the Cobbs Creek Watershed.
Our watershed partners provide a wide array of opportunities to learn and get involved:
Celebrate the 25th Anniversary of the Darby Creek Valley Association – the marquee watershed organization – by signing up for its Annual Watershed Wide Clean Up in 2010, or the annual Governor Printz canoe/kayak challenge, and many other events.
Contact the Lower Merion Conservancy and inquire about their unique range of creative educational programs for all ages. Their Children's Earth Day Forest is always a big hit!
Volunteer with the students at Friends Central Middle School who are guided by the incomparable Doug Ross, a celebrated teacher who works tirelessly to plan experiential educational experiences for his classes on school grounds where Cobbs Creek passes.
Listen to the inspiring story of the founding of the Cobbs Creek Community Environmental Education Center, a nonprofit center for educating and informing people about issues affecting their environment.
Stop by the Yeadon Borough municipal parking lot on a rainy day and see if you can notice anything different about the runoff hitting the street and the runoff hitting the parking lot. Chances are you won't see any stormwater runoff from the parking lot, because Yeadon Borough has a porous asphalt parking lot! This technology helps infiltrate and clean water while reducing flooding impacts downstream. Also, don't forget to check out the municipal rain barrel!
Play a game of hoops on the porous pavement basketball courts at Second Ward Park Playground in Upper Darby Township. The courts utilize the latest in stormwater management technology to control the runoff from the basketball courts, which helps with water quality and flooding issues downstream, as well as give everyone more playing time on the courts.
Roll up your sleeves and meet the amazing volunteers from the Morris Park Restoration Association who go out almost weekly during the summer to conduct projects such as native plant and animal habitat restoration as well as community involvement, educational outreach on woodland ecosystems.
Take a chance and volunteer for one of the Cobbs Creek West Community Association's clean-up events in Upper Darby Township. Their neighborhood's section of Cobbs Creek Park is indeed a treasure! If you go, be prepared to see a real community at work – the neighborhood is a mini-reflection of the diversity of the township where more than 55 languages are spoken at the school district!
An Act 167 Stormwater Management Plan was completed for the Darby-Cobbs Watershed in 2004 under the leadership of the Delaware County Planning Department. It can be downloaded on the Key Documents/Maps page.
A River Conservation Plan was completed by the Darby Creek Valley Association (DCVA) for the entire watershed drainage area in 2005. It can be downloaded on the Key Documents/Maps page.
Please see our Partnerships page to learn even more about the watershed and how you can be involved.