Community Input for Green Stormwater Infrastructure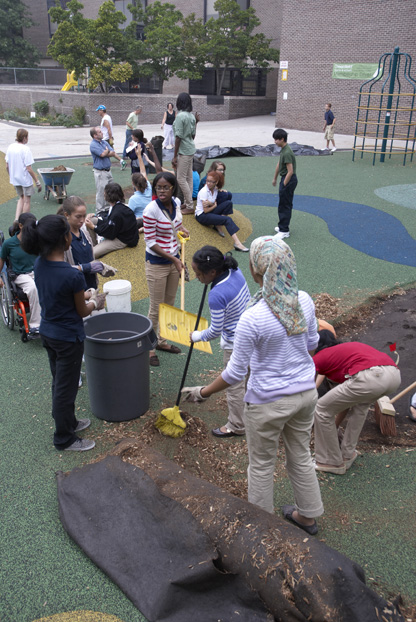 The Philadelphia Water Department (PWD) seeks to partner with community stakeholders across the city to develop green stormwater management projects as part of our Green City, Clean Waters program.
Green Stormwater Infrastructure (GSI) refers to a range of tools such as rain gardens, stormwater tree trenches, stormwater planters and pervious pavement that capture and filter stormwater and allow it to slowly infiltrate into the soil, reducing the amount of runoff and sewer overflows that pollute our waterways.
PWD is accepting community input on potential green stormwater infrastructure projects at schools, recreation centers, parks, public spaces and parking lots. PWD will also review neighborhood-wide submissions of GSI opportunities.
Please read through the links below to learn about the community input process and submit a project suggestion.
Submission of input does not guarantee that a project will be selected for implementation.
Thank you for your interest!
Community Input Process:
Please follow the steps below to submit a singular project suggestion to PWD via the Community Input Form.
Learn about project requirements and selection priorities.
Learn about the types of projects that are eligible.
Conduct a stormwater analysis to identify opportunities for stormwater management on a particular site or within a community.
Read through these steps to identify the types of information necessary for a project submission.
If you have a project that meets the criteria outlined above, follow this link to submit a detailed community input form.
Neighborhood Planning for Green Infrastructure:
This process allows neighborhood-based organizations to submit a neighborhood-wide grouping of potential GSI project sites that have been identified by the community.