Congratulations to Osman Fofanah! A PowerCorpsPHL Success Story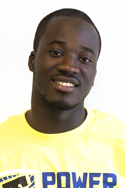 The Philadelphia Water Department would like to give a big shout out to Osman Fofanah, a PowerCorpPHL alumnus who recently landed a job with AKRF (Allee King Rosen & Fleming), a prominent environmental, planning and engineering consulting firm.

Through PowerCorpPHL, Osman worked with PWD's Office of Watersheds this past year with the Green Stormwater Infrastructure Maintenance team, assisting with tasks ranging from data entry to field work at project sites. Additionally, Osman was the Assistant Crew Leader for PowerCorpsPHL inaugural Green Stormwater Infrastructure Maintenance Crew from April 2014 through September 2014, making sure that PWD's green infrastructure functioned properly and looked beautiful.

With AKRF, Osman will use the skills he learned at the Water Department for his new position as the Green Infrastructure Landscape Maintenance Technician. He will perform routine surface maintenance as well as planting and installing green stormwater infrastructure projects in Philadelphia and the surrounding region.

PowerCorpPHL, an AmeriCorps program that started in 2013, enrolls 100 individuals, ages 18 to 26 in a 9 month program with 6 months of full-time service as AmeriCorps members in city departments, and 3 months of intensive job placement support. The program is designed to address environmental stewardship initiatives as well as the City of Philadelphia's youth workforce development and violence prevention priorities. Osman's story is a testament to the success of the PowerCorpsPHL program and PWD is delighted to be involved as a partner with this program.

Osman, who was in the first PowerCorpPHL cohort, is a dedicated, self-motivated young man. Knowing what Osman brings to this position, it was not surprising to hear that he landed the job and there is no doubt he will find success in his new role. The Philadelphia Water Department wishes him all the best and sends him a hearty congratulations!