CSOcast
The purpose of the Philadelphia Combined Sewer Overflow Public Notification System is to alert the public of possible Combined Sewer Overflows from Philadelphia's combined sewer system outfalls.
Overview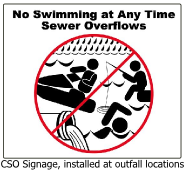 During dry weather, the combined sewer system and wastewater treatment plants have the capacity to transport and treat all the sanitary sewage entering the system. However, when flow in the sewer increases as a result of rainfall and/or snowmelt, the treatment plants may reach their capacity. When system capacity is reached, the sewer system allows for combined sewage to discharge into nearby waterbodies by means of combined sewer outfalls to prevent and protect neighborhoods and these wastewater plants from flooding. When a combined sewer outfall is overflowing, and up to a period of 24 hours following the rainfall event, it is unsafe to recreate in the waterbody due to possible pollutant contamination. Viewing this website before potential water contact is highly recommended.
How It Works
The Philadelphia Water Department has maintained an extensive flow monitoring network since 1995. Level sensors record data throughout the combined sewer system. PWD currently operates and maintains monitoring equipment at, or near, the 164 CSOs throughout the city. This public notification system is based on PWD analysis of monitoring network data which is used to determine the likelihood of combined sewer overflows.
Flow monitoring data presented on this web page is validated with the Philadelphia watershed and wastewater conveyance model. The model was developed using U.S. EPA's Storm Water Management Model (SWMM). Real time rainfall data is taken from the PWD rain gage network and run through the model to estimate where and when overflows are occurring. Model output is then used to validate the monitoring data, ensuring a second level of accuracy.
Information on this site is updated daily. If an outfall reports that no overflow is occurring, but it is still raining, there is the potential that an overflow is indeed occurring. It is always safest to avoid aquatic recreation during rainfall events.
For more information on how to use the map on this page, click here.


Zoom to a river/creek:




Search for your address:
(Example: 1101 Market St)





Disclaimer
The Philadelphia Combined Sewer Overflow Public Notification System (CSOCast) is a pilot program. PWD is constantly updating and improving not only the notification system, but the flow monitoring network and SWMM Model, in order to deliver the best information possible to the public.
Flow monitoring is a difficult task that requires constant maintenance of the city-wide sensor network. Because the monitoring system is so extensive, it should be assumed some monitors may occasionally report inaccurate information and sometimes no information at all.
Additionally, a watershed and wastewater conveyance model is only an estimate of actual conditions. The model is calibrated to real data to achieve a high level of accuracy; however, it should be understood that a certain level of error will always be present. Recent changes in the land use (for example, a new park constructed in place of a parking lot) will not be reflected in CSOcast until the model is updated. As Philadelphia becomes greener and overflows are reduced, the model will in turn be updated to new conditions.
Learn more about the SWMM modeling software.
Feedback
Please let us know how this system is working for you.
Questions or comments regarding information presented on CSOcast should be directed to edward.lennonjr@phila.gov