End Summer with a Bang: Volunteers Still Needed on the Delaware!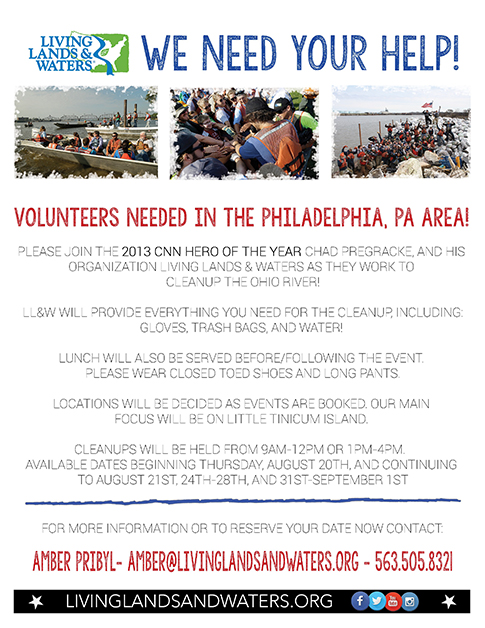 Click on the image above for larger, shareable version of the event flyer.
Looking for a fun way to do some volunteer work before the summer ends?
Time is running out, but we have just the event for you. Philadelphia Water is joining the nonprofit Living Lands and Waters and the Partnership for the Delaware Estuary in an upcoming Delaware River cleanup event, and we need your help!
Join us as we clean up the Delaware River through September 1. Cleanups will be held on designated work days from 9 a.m. to noon and from 1 p.m. to 4 p.m. While the deadline for signups was August 14, we're still looking for volunteers on all days. Please join us and RSVP here!
All events will be based out of the following locations:
Penn's Landing – 101 S Columbus Blvd Philadelphia, PA 19106 (Walnut East parking lot, closest to the Seaport Museum and Marina)
Ridley Park Marina- 401 S Swarthmore Ave Ridley Park, PA 19078
Delair Boat Ramp – 17 Derousse Avenue Pennsauken, NJ 08110
More details will be emailed to volunteers prior to event.
Supplies and free food will be provided, and large groups are encouraged to register now.
Living Lands & Waters is an Illinois-based environmental organization established by Chad Pregracke in 1998. Read more about the fascinating story behind Living Lands and Waters on their website. Questions? Contact Amber at 563.505.8321 or amber@livinglandsandwaters.org.