Explore Philly's Water + Parks Love Story During 'Love Your Park Week'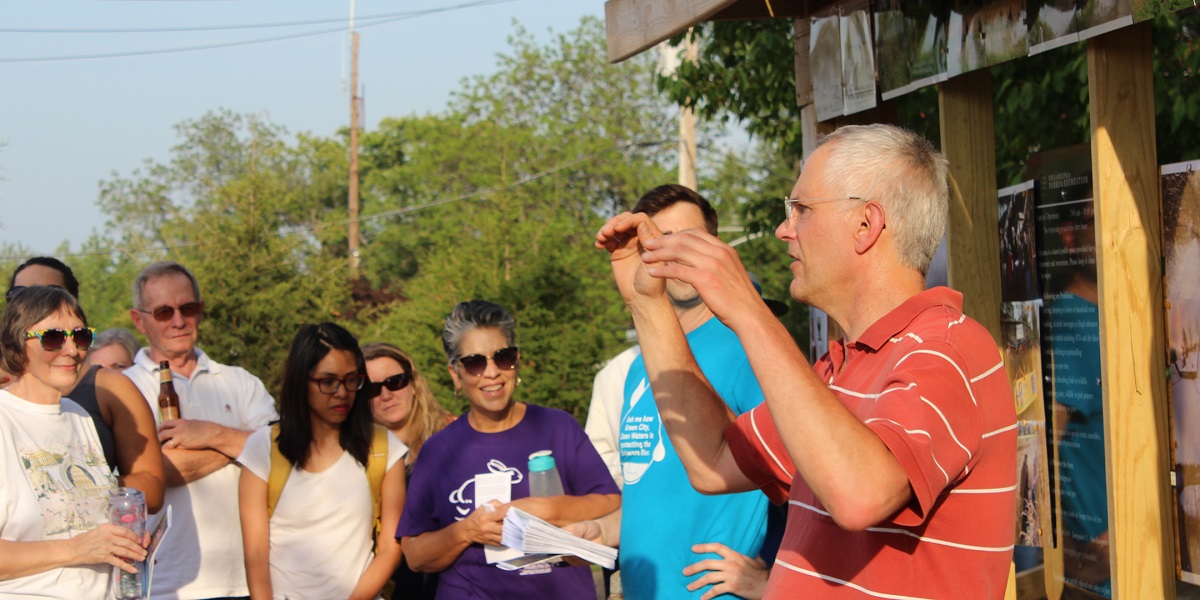 Adam Levine talks about the history of Upper Roxborough Reservoir and how it became an urban park after serving residents for nearly a century during a 2017 Love Your Park event. Credit: PWD
In Philadelphia, parks and water have a love story that is as long as it is rich.
The founders of our beloved Fairmount Park knew that preserving green, natural spaces is a great way to protect water quality in our rivers and creeks.
Today, we are adding a new layer to that appreciation with Green City, Clean Waters - a program that adds more green to our communities as a way of soaking up stormwater runoff to help our sewer system run more efficiently and reduce overflows that can pollute waterways.
As we have in past years, Philadelphia Water Department staff are joining fellow park advocates for the spring edition of Love Your Park Week events across the city. Spanning May 12-20, Love Your Park is a biannual event that cleans, greens, and celebrates Philly's parks. A "collaborative partnership among Fairmount Park Conservancy, Philadelphia Parks & Recreation, and the Park Friends Network," the week is packed with cool ways to learn more about the green spaces that make our city great while giving back.
Events with PWD
On Saturday, we'll team up with Friends of Harrowgate Park for a cleanup, spring planting, and BBQ.
Home to several rain gardens, Harrowgate Park is one of many Parks and Recreation sites where green stormwater tools help to keep millions of gallons of runoff out of local waterways each year while also adding attractive landscaped features.
With many more Green City, Clean Waters projects planned for park sites in the coming years, Parks and Recreation will continue to be one of our most important partners in expanding green infrastructure on public land. More about the May 12 event here.
For a deep dive conversation about how parks and green infrastructure work hand-in-hand, we are holding a Love Your Park event with Young Involved Philadelphia on Monday, May 14.
Held at the community-run Liberty Lands Park in Northern Liberties, this picnic chat will explore the green stormwater features at the site and highlight how green tools reduce sewer overflows while providing other benefits for the environment and our communities.
The event will emphasize the importance of public education about Philadelphia's water history, current water infrastructure, and individuals' connection to water. Learning how to take part in stewardship opportunities through PWD's storm drain marking, Rain Check and Soak It Up Adoption programs will allow attendees to play a positive role in the health of our waterways and watersheds.
Please sign up if you want to join us!
While that event looks at a park enhanced by water infrastructure, we'll close out Love Your Park Week on the other side of the city at an urban green space that flips the Liberty Lands narrative 180-degrees: the Upper Roxborough Reservoir.
Here, we have the story, not of a park which now acts as water infrastructure, but water infrastructure which now acts as a parkland.
Located on high ground along Port Royal Avenue that provides an amazing view of the skyline, the reservoir was constructed in the 1890s and served the city with fresh drinking water until being retired in 1962.
Nature slowly reclaimed the site until residents and Parks and Recreation adopted it and made improvements to enhance recreation opportunities. Today, the dedicated Friends of Upper Roxborough Reservoir Preserve aren't just caring for the site - they're also making improvements, including the addition of many new native trees and an attractive wooden fence that replaces an aging chain-link version.
In a twist, the property also hosts a large rain garden swale created as an early Green City, Clean Waters test site.
You can RSVP for our May 20 walking tour and talk, led by PWD historian Adam Levine, here.
Here are a few more Love Your Park events with Philly-water ties:
Watershed workshop: The Friends Group of Rainbow de Colores Playground will lead the community and volunteers in a park cleanup, with activities to follow such as a watershed workshop, face-painting, book nooks, hopscotch, mapping out neighborhood connections through walkability, upcoming community gardening initiatives, and more! Snacks will also be provided! RSVP here.
Love Tacony Creek: Join the Tacony Creek Park Keepers and the TTF Watershed Partnership to help beautify the trail in Tacony Creek Park. Learn about the bird and nature walk programs, and how you can get involved in taking care of this hidden gem! Refreshments will be provided for volunteers. RSVP here.
FDR Park serves as an important habitat for local and migrating waterfowl. Head there for a special photography workshop during LYP. RSVP here.
Love Your Park Trolley Tour at the Water Works: Fairmount Park is home to historic architecture, beautiful vistas, and significant works of public art. This walking and trolley tour begins at the West Entrance of the Philadelphia Museum of Art and explores the Fairmount Water Works - on of the nation's most famous early drinking water systems and an iconic architecture site. Other stops include Lemon Hill and many other points of interest in the park. RSVP here.