Giving Tuesday: Support Watershed Stewardship in Philly!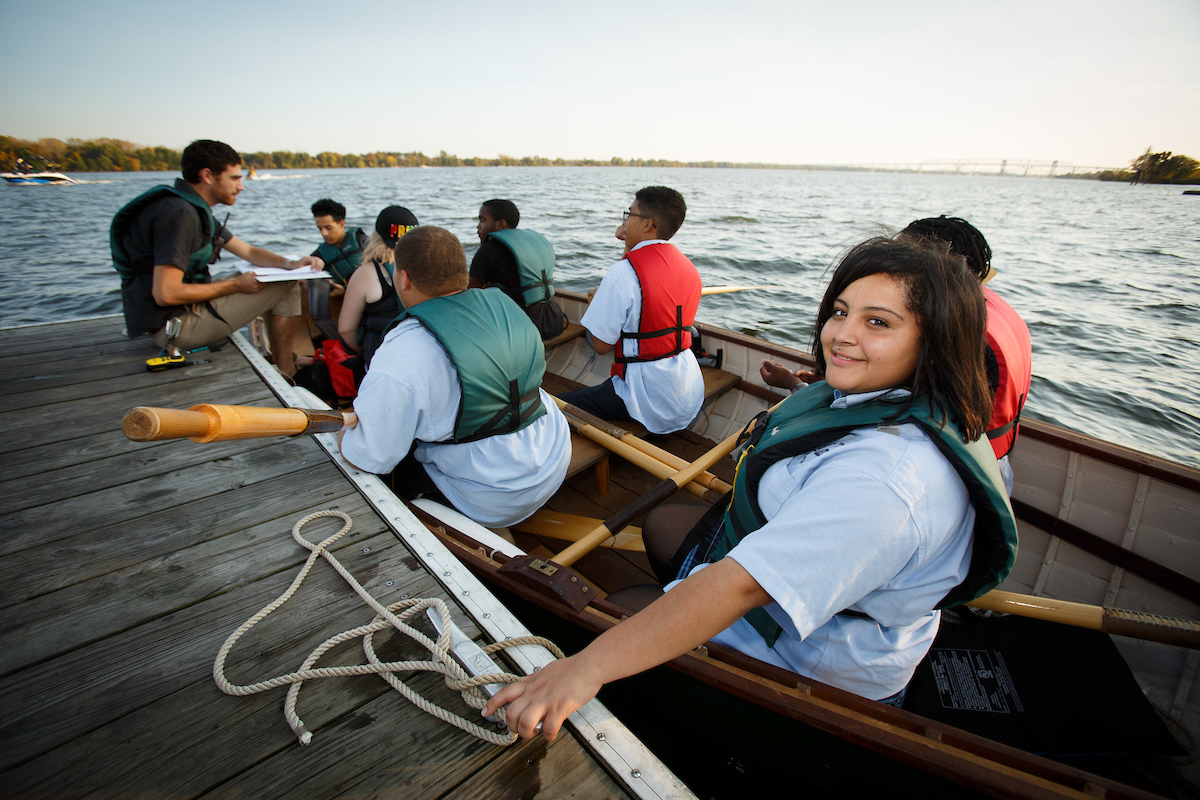 These Philly kids are learning to be Delaware River stewards through the Philadelphia Wooden Boat Factory RiverGuides program. Credit: Alan Brian Nilsen/ABN photography
We believe that people who have an intimate connection to their local watershed are more likely to get involved in efforts to guard and improve that watershed.
Spend a day canoeing on the Schuylkill River, fishing for striped bass on the Delaware, seeding freshwater mussels on the Tacony Creek or birding along the Wissahickon, and you'll come away with a renewed sense of purpose when it comes to protecting these invaluable resources.
Across the city and region, there are dedicated organizations and institutions working to build those connections through increased recreational access to our riverfronts, through environmental education that underscores the vital role healthy watersheds play in vibrant ecosystems, through scientific research, and more.
With "Giving Tuesday" upon us, today is a great day to support those protecting and improving Philadelphia's waterways.
If you recognize the value of our watersheds, consider supporting those who share your appreciation on Giving Tuesday and help further their efforts.
Below are a few partners that rely on contributions to keep up the good work of watershed stewardship.
What group or organization works to protect and support a local waterway you care about? Tell us on Twitter or Facebook!
Fairmount Water Works
Right here at the Philadelphia Water Department, the Fairmount Water Works serves a number of roles, from preservation of one the nation's first public drinking water systems to educational programming that embraces new technology and science to train a fresh generation of environmental stewards.
Right now, you can go to the Water Works and see Falling Waters: The Legacy of the Schuylkill Navigation, an exhibit by photographer and watershed educator Sandy Sorlien that documents the history behind a once-magnificent network of dams, locks, canals and other infrastructure that shaped the river.
In the near future, visitors will be able to explore an innovative 530-square-foot educational freshwater mussel hatchery that shines a light on these little-known but important (and often threatened) aquatic creatures.
Fairmount Water Works also offers fun programs for families and kids throughout the year, works to develop watershed curriculums for schools, offers summer camp-style programs like Project Flow and much, much more.
Learn more at their website and consider making a donation here.
Philadelphia Wooden Boat Factory
The nonprofit Philadelphia Wooden Boat Factory focuses on youth development through boat building, environmental science and sailing. Apprentices learn life skills while becoming stellar Delaware River watershed stewards through the RiverGuides program. Working with PWBF science staff, youth RiverGuides "build interactive lesson plans and engage in their own restoration projects within the local watershed."
Check out PWBF's latest campaign, Acts of Love, at this fundraising page.
A small donation can make a big difference!
Tookany-Tacony Frankford Watershed Partnership (TTF)
The TTF Watershed Partnership is one of the most vocal advocates in our region and works tirelessly to show people what the Tookany-Tacony Frankford Creek has to offer. TTF's mission is "to improve the health and vitality of the Tookany/Tacony-Frankford Creek and watershed by engaging our communities in education, stewardship, restoration, and advocacy."
They have supported litter studies, acted as early proponents of green stormwater infrastructure, planted trees in the watershed, and organize important citizen-scientist programs like their Streamkeepers water quality monitoring effort.
TTF's current goal is raise $20,000 to "plant trees, clean up waste, create rain gardens, involve young people, and bring our communities together."
Learn more here.

Partnership for the Delaware Estuary (PDE)
Now celebrating 20 years of watershed advocacy, PDE has been a key partner of the Philadelphia Water Department and works with number of local organizations. They host family friendly events like Coast Day, build oyster-breeding beds in the Delaware Bay using recycled shells from restaurants, and organize serious scientific programs dedicated to local issues like climate change and wetland restoration … just to name a few of their good works.
As a nonprofit and one of 28 National Estuary Programs designated by Congress, PDE's mission is "to lead science-based and collaborative efforts to improve the tidal Delaware River and Bay."
Learn more about their work and how your contribution can help here.
Schuylkill Action Network and the Schuylkill Restoration Fund
Schuylkill Action Network members "share information, expertise, and technology to help each other achieve a shared vision of clean water and a healthy environment for the Schuylkill River and its tributaries."
One the most popular programs they support is the Schuylkill Scrub, a months-long annual anti-litter/cleanup campaign that coordinates groups throughout the Schuylkill watershed.
In addition to supporting SAN as a member, businesses and individuals may be interested in joining PWD in contributing to the Schuylkill Restoration Fund, an annual grant program for on-the-ground projects that improve the water resources of the Schuylkill River.
SAN raises funds to implement projects that "minimize and even eliminate the problems caused by abandoned mines, agricultural runoff, and flooding, while also improving access and recreational opportunities along the river."
Read our blog post about projects funded in 2016 here, and head over to the Schuylkill Restoration Fund page if you're interested in contributing.
Delaware River Watershed Initiative (DRWI)
As most watershed advocates know, protecting our rivers and streams is often about the bigger picture.
You can work hard to protect the waterway in your own backyard, but what is happening many miles upstream is often just as important.
An "unprecedented collaboration to protect and restore water quality" that includes more than 50 nonprofits, the Delaware River Watershed Initiative embodies an interconnected approach, working to advocate for conservation from the river's Catskill Mountain headwaters all the way down to the Delaware Bay.
If you're looking for a local organization to join or support, their list of partners covers a wide range of groups working on any number of watershed issues in areas up and down the Delaware.
Visit the DRWI homepage to watch their short film about issues facing our watersheds, and check out their "Support" page to find participating organizations you can get involved with or back.