Good Economy Challenge to Candidates Features Green City, Clean Waters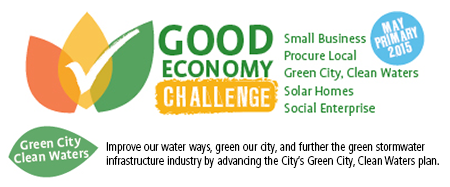 The Sustainable Business Network of Greater Philadelphia (SBN) has stepped into the fray of this year's city elections to offer up the "Good Economy Challenge" to all of the candidates for mayor and City Council. Highlighting the importance of a sustainable economy, they focus on five policy priorities: small business, procure local, solar homes, social enterprise and... Green City, Clean Waters!
In a recent newsletter SBN wrote "Green City, Clean Waters is bringing many economic, environmental, and social benefits to the city, and is positioning Philadelphia as a national leader in urban stormwater management. Our next Mayor/Council Members should drive Green City, Clean Waters forward in a unified way, so that the program can continue to positively influence Philadelphia's competitiveness, local and regional economy, environment, and quality of life." (We're blushing over here!) And in their policy paper, SBN outlines three specific recommendations asking candidates to pledge their commitment to Green City, Clean Waters, to improve coordination across city departments to better support the program and to continue making Philadelphia a green infrastructure industry and innovation hub for the nation. You can check all of their recommendations here.
Perhaps most importantly, SBN is hosting the Good Economy Candidates Forum, giving you a chance to hear directly from mayoral candidates on Saturday, April 25, 6:30-9pm. The forum takes place at Temple's Fox School of Business, Alter Hall Auditorium, 1801 Liacouras Walk, Philadelphia, PA. You can register for the forum using this link.
And they didn't just stop at issuing the challenge and organizing a forum! To keep up the social pressure, SBN has provided all kinds of easy-to-use tools for people to spread the message of this challenge. They've provided suggested Twitter and Facebook language (we're partial to this one) so YOU can be part of the effort to put these policies in front of the mayoral and council candidates—scroll to the bottom of this page here for more examples.
We appreciate that SBN has been such a strong advocate for Green City, Clean Waters and included it in this challenge. If you agree that Green City, Clean Waters, and sustainable, local business is an important topic for our new leaders, then make sure you attend the Forum, spread the word and get involved!