Green City, Clean Waters Named 'Climate Hero' at Sustain PHL Celebration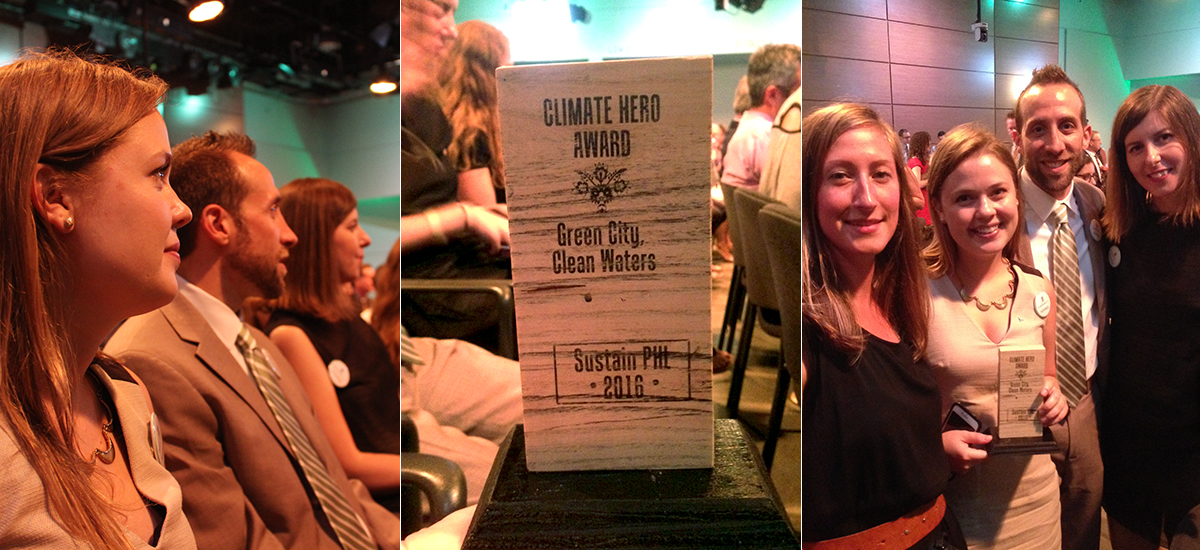 Philadelphia Water picked up the Sustain PHL Climate Hero Award (center) on Aug. 18. Credit: Philadelphia Water
Philadelphia Water and the Green City, Clean Waters program received the first-ever Climate Hero Award at Sustain PHL, a citywide sustainability celebration held before a packed house at the WHYY studios on August 18.
Climate Hero: Green City Clean Waters of @PhillyH2O #SustainPHL -- "This room is very, very powerful" pic.twitter.com/22awDcJzBt

— Generocity.org (@Generocity) August 19, 2016
The Climate Hero award highlights the department's investment in green infrastructure and efforts to study and prepare for potential climate change impacts on both local waterways and the systems used to manage, treat and deliver water in Philadelphia.
"This award is recognition of the hard work and forward-thinking culture that drives the Philadelphia Water Department," said Commissioner Debra McCarty. "We plan our infrastructure investments by looking many decades into the future, and preparing for the reality of climate change is an important part of that process. We are pleased to see the many people who make Green City, Clean Waters and our Climate Change Adaptation Program possible recognized for their contributions."
You can read a good summary of our climate work (and why we do it) in this earlier Watersheds Blog post.
Marc Cammarata, director of the Office of Watersheds and interim Deputy Commissioner of Planning & Environmental Services, accepted the award on behalf of Philadelphia Water. He was joined by Abby Sullivan and Julia Rockwell, of the department's Climate Change Adaptation Program, and Office of Watersheds GSI Planner Stephanie Chiorean.
"We are honored to receive this award and to have been involved in such an inspiring event that truly showcased how many great people and organizations there are in the Philadelphia area working toward a more sustainable future," Cammarata said. "We consider the effects of climate change to be a crucial challenge facing our city and our region, and our work is only part of what it will take to address this pressing issue. Green City, Clean Waters will be a powerful tool toward building resiliency to a changing climate, and it's essential that we continue to invest in adaptation strategies that prepare Philadelphians for what lies ahead."
Also nominated for the Climate Hero award were Swathmore College, which is engaged in a fossil fuel divestment campaign, and #ClimateDisrupted, a project spearheaded by The Schuylkill Center and local artists that uses art to engage people around climate issues.
You can read more about the Climate Hero award and other City employees and programs honored at Sustain PHL here. Also nominated for the Climate Hero award here.
Congratulations to all who participated in this event!