Joanne Dahme Wins City's Dilworth Award for Customer Service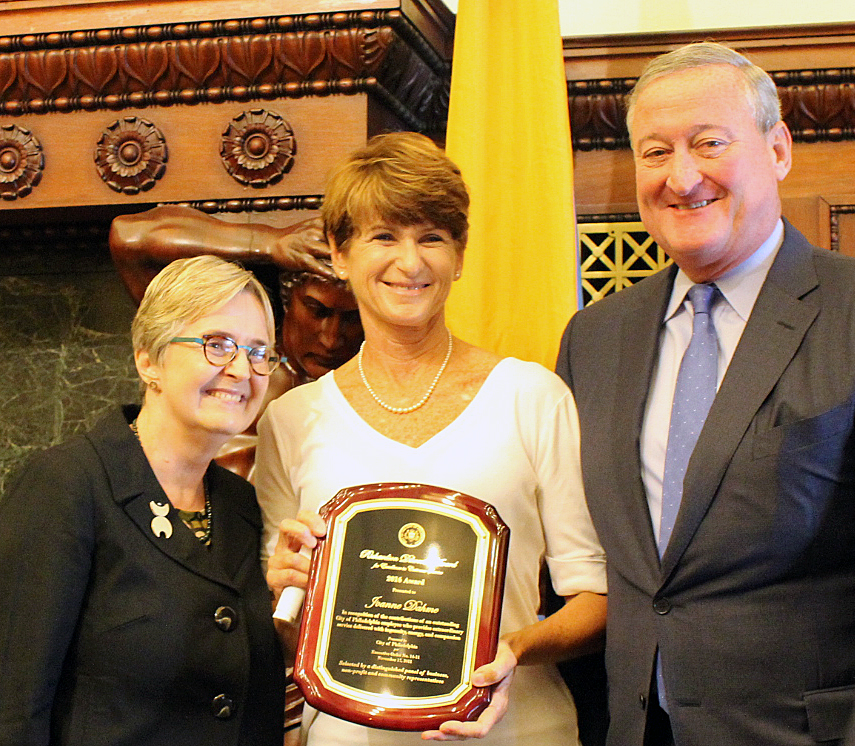 Joanne Dahme, General Manager of Public Affairs at the Philadelphia Water Department (at center), with Commissioner Debra McCarty and Mayor Jim Kenney after receiving the Richardson Dilworth Award for Excellence in Customer Service.
Here at the Philadelphia Water Department, Joanne Dahme is more than General Manager of the Public Affairs Division.
She is a cheerleader, a champion and a motivational force that keeps the rest of the department on its toes, always striving to serve the people of Philadelphia not just with good service, but with energy and a positive attitude.
Joanne, who originally began her career as a Water Pollution Control Plant engineer 34 years ago, runs circles around all of us at PWD. And then, after work, she goes home, does some actual running, and dedicates her time to her family, her neighborhood, and her other passion—writing novels for young adults.
That kind of energy makes it hard not to get inspired when you work with Joanne.
On September 13, the City of Philadelphia recognized her unwavering dedication to her work and the citizens she serves in a big way: Joanne was given the Richardson Dilworth Award for Excellence in Customer Service, one of the most prestigious awards a City employee can receive.
She was given the honor along with Joseph Sullivan, Chief Inspector of the Homeland Security Bureau for the Philadelphia Police Department, who received the award for Distinguished Public Service, and Laura Cassidy, Sustainability Manager for the Philadelphia Department of Prisons, recipient of the award for Innovation in Government. Read the full announcement here.

"It is hard to fully capture the many reasons that Joanne is so deserving of this award," said Commissioner Debra McCarty. "She is a leader and example of what an indomitable spirit and drive can accomplish, and is one of the most dedicated and hardworking people that I know. There is seemingly no challenge that she won't take on, no matter how daunting and onerous."
The committee who selected the winners noted that a total of 215 nominations were submitted for the annual award, the most since the Dilworth Awards began five years ago.
In addition to her coworkers, a number of community groups and organizations nominated Joanne, including the Manayunk Development Corporation, the North Light Community Center, the Pennsylvania Environmental Council, Rob Traver of Villanova University, the New Kensington CDC and several others.
Congratulations to Joanne and the other Dilworth winners—you earned it!
See photos from the ceremony:
Here's some of the praise for Joanne and the other Dilworth winners that poured in on social media after the announcement:
"I feel like I'm receiving this award on behalf of all members of the @PhillyH2O department" @DahmeJoanne 2016 @DilworthAward winner.

— The Dilworth Awards (@DilworthAward) September 13, 2016
Congrats to the 2016 @DilworthAward winners and to all of the @PhiladelphiaGov employees who make our city thrive! pic.twitter.com/RfJicsEmai

— The Dilworth Awards (@DilworthAward) September 13, 2016
The @DilworthAward: City honors three of its best and brightest via @phillydotcom https://t.co/qMlDdwi3ig pic.twitter.com/bvReXBVKHh

— The Dilworth Awards (@DilworthAward) September 13, 2016
Congrats to the 2016 winners of the #DilworthAward for their service to our city! pic.twitter.com/vD7Vq6ZqcT

— Jim Kenney (@PhillyMayor) September 13, 2016
Congrats to @SchuylkillCtr friend & @PhillyH2O's Joanne Dahme for winning @DilworthAward. Richly deserved! https://t.co/ZxuSUD0AGI

— Mike Weilbacher (@SCEEMike) September 14, 2016
Congratulations to all from your @PhillyFireDept partners! @PhillyPolice @PhillyPrisons @PhillyH2O @PPDJoeSullivan https://t.co/0TFUwc3J9B

— Adam K. Thiel (@ThielAdam) September 13, 2016
Joanne Dahme, GM of Public Affairs, accepts the @DilworthAward for Customer Service! Congrats! pic.twitter.com/QGXLXemX9S

— Philadelphia Water (@PhillyH2O) September 13, 2016
@bradleydanj @DilworthAward @PhiladelphiaGov @DahmeJoanne @PhillyH2O @PhillyPrisons @PhillyPolice no better partner than @PhilaOEM and you

— Joe Sullivan (@PPDJoeSullivan) September 13, 2016
Congrats @DahmeJoanne, well deserved recognition for all that you do! #DilworthAward #CleanWatersPHL @PhillyH2O https://t.co/CuJBty088b

— GSI Partners (@GSIPartners) September 13, 2016