RainCheck Goes Citywide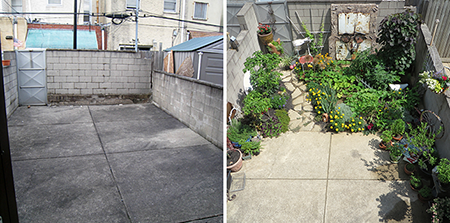 A residential yard depaved through the RainCheck program.
Good news! We made some exciting changes to our Rain Check program. Working together with the Pennsylvania Horticultural Society (PHS) and Sustainable Business Network (SBN) we've expanded our reach, streamlined our process and increased our team of qualified contractors.
What has changed? First – the program is now open to residents in the entire City. Prior to April 1st, downspout planters, rain gardens and masonry projects were only available to residents who lived in the Combined Sewer Area of Philadelphia. As of today, any resident can sign up.
Second – we're merging all of our Stormwater Tools (rain barrels, downspout planters, rain gardens and porous pavement) into one program, called Rain Check. Don't worry, rain barrels are still free! Now you can explore all of these Stormwater Tools by attending a free Rain Check Workshop.
Lastly – we're offering Rain Check Workshops more frequently and in more Philadelphia neighborhoods. Everyone who participates in the program is required to attend a workshop. As we expand the program, we're looking for hosts for our Rain Check workshops. If you think your community would be a good place for a workshop, contact Guina Hammond (ghammond@pennhort.org) at PHS.
Through Rain Check, PWD provides free rain barrels and helps pay for downspout planters, rain gardens, de-paving and porous pavements. Sign up here: archive.phillywatersheds.org/raincheck or call PHS Information Services (215) 988-1698.