Schuylkill River Restoration Fund: Eight New Investments in River's Health Announced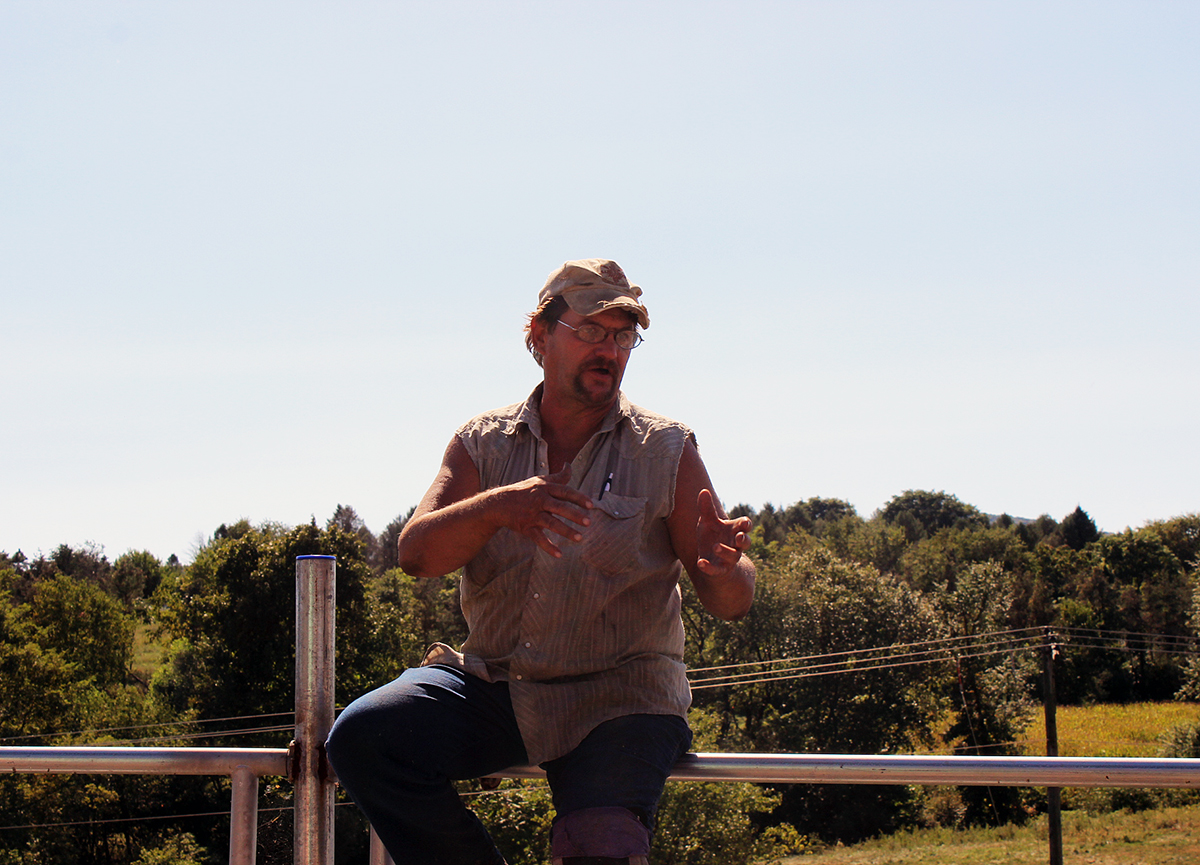 David Rice tells members of the Philadelphia Water Dept. that, without grant support, his farm wouldn't have built special buildings, manure pits and surfaces that keep agricultural runoff out of a nearby Schuylkill River tributary.
The Philadelphia Water Department works hard to protect the Schuylkill and Delaware Rivers here in Philly, but an essential fact about water is that it's a shared resource. Our watersheds don't just provide drinking water for the 1.5 million people in Philadelphia—many millions more depend on these same waters at their kitchen taps, for agriculture, tourism and recreation, and more.
And what happens in the watersheds above Philadelphia matters for the huge number of people living downstream.
For perspective, consider that less than two percent of the watershed providing our source water falls within Philadelphia. When you look at our rivers that way, it becomes clear why a strong partnership approach is such a critical part of the effort to ensure top-quality drinking water.
That's why we work with organizations like the Schuylkill River National and State Heritage Area, which advocates for the health of one of our main drinking water sources and manages important programs like the Schuylkill River Restoration Fund (SRRF).

On Wednesday, Sept. 7, PWD joined fellow partners in announcing nearly $279,000 in SRRF grants that will help protect the Schuylkill through eight investments in places ranging from the rural headwaters to the North Light Community Center in urban Manayunk. (Full list of SRRF contributors here).
Work has begun on the rain garden in our playground! The swale is under construction. This project has been... https://t.co/JP0quKhVNk

— North Light (@NorthLight4) September 15, 2016
Established in 2006, the fund is dedicated to addressing three pollution sources impacting the Schuylkill:
•Acid mine drainage resulting from coal mines that once thrived in Schuylkill County, home to the river's headwaters

• Agricultural runoff, which can contain fertilizers, sediment and other pollutants from the many farms dotting the watershed

•Stormwater runoff, most often associated with developed areas, where asphalt, concrete and roofs prevent rain from soaking into the ground and instead send polluted water into rivers and streams during and after storms
As a contributor to the fund, PWD has invested in dozens of projects that are having a real impact on the health of the river.
Announcing a new round of projects being funded by the grant in 2016, Schuylkill River Heritage Area Executive Director Silas Chamberlin detailed the impressive scope of this collaborative effort.
"Over the past 11 years, the Schuylkill River Restoration Fund has distributed $2.7 million—and leveraged another $4.7 million—for 82 projects that improve water quality in the Schuylkill River watershed," said Chamberlin. "The success of this fund demonstrates how non-profit, government, and private sectors can work together to protect and restore the Schuylkill River."
Kelly Anderson, manager of PWD's Source Water Protection Program, noted that Philadelphia has two drinking water intakes on the Schuylkill, making the river an invaluable resource for the hundreds of thousands of residents who depend on it for clean water every day.
"We believe that the quality of our drinking water is closely linked to the health of our rivers and streams," Anderson told partners and community members gathered for the grant announcement. "At the North Light Community Center, rain gardens with native plants will manage stormwater runoff from the school playground and serve as an educational tool for their robust watershed curriculum. Closer to the Schuylkill's headwaters, projects being implemented on the Zettlemoyer farm will aid in Philadelphia's commitment to protect our rivers and drinking water by more effectively managing stormwater runoff."
Beyond the projects funded to date, Anderson said the SRRF investments can raise local awareness about the need to protect local waterways.
"By implementing stormwater projects at farms and schools, other farms and schools in the community will be educated and can see first-hand the importance of our protecting the water environment in their communities," said Anderson. "We hope to see more farms and schools wanting to make these types of improvements on their land. It's a win for the farmers, the educators, the students, the water suppliers, and the Schuylkill River. If we continue in the direction we're headed … we're going to continue to see positive change in our water supply."
More: See photos of Upper Schuylkill Watershed source water protection projects highlighted by the Schuylkill Action Network on Sept. 7 here:
See the full list of SRRF investments announced on Sept. 7 below:
Implementation Projects
Berks County Conservation District, Meyers Horse Farm: $8,332
This project will install best management practices (BMPs) on a horse farm operation in Barto, Pa. to aid in preventing manure, sediment and other nonpoint source water pollution from entering the West Branch of the Perkiomen Creek. A roofed manure stacking pad will be constructed, as well as a stabilized gravel lot. Stormwater controls will also be installed to manage runoff.
Berks Nature, Durkin Farm: $95,000
This farm is a 501-acre dairy farm located on Manor Creek, a tributary of the Maiden Creek (part of the Schuylkill watershed). Berks Nature (non-profit conservation organization serving Berks County) will install a manure storage facility and water transfer system. The farm will also receive stormwater controls throughout the barnyard, streambank fencing and improved riparian buffers.
Berks Nature, Zettlemoyer Farm: $50,000
This project will implement various agricultural BMPs on a 445-acre heifer operation located on Manor Creek. Two dry storage facilities will be installed along with a waste transfer system, stormwater controls and streambank fencing.
Borough of Pottstown, Stormwater Filter Project: $40,000
The Borough will install a new backflow prevention device to mitigate chronic roadway flooding and a new water quality unit to remove pollutants before then can discharge into the Schuylkill River.
Schuylkill Headwaters Association, Big Creek Limestone Project: $40,000
The Schuylkill Headwaters Association will dose the headwaters of Big Creek with high-calcium limestone sand in an effort to reduce in stream acidity. The restoration of Big Creek's water quality will result in an average of 6,407 gallons per minute of treated water entering the headwaters of the Schuylkill River.
North Light Community Schoolyard Stormwater: $37,500
The North Light Community Center will complete a schoolyard renovation project at their educational facility in Philadelphia. Impervious playground surface will be removed and a stormwater management system will be installed that will include a rain garden and native plants. This project will serve as a learning lab for both the students and the community.
Land Transaction Assistance Projects
These projects support the preservation of land surrounding waterways in the Schuylkill watersheds.
Berks Nature. St. Lawrence Property: $4,000
Using a conservation easement, the St. Lawrence Borough land protection project will permanently protect a 245-acre, high-priority landscape of forested property on an unnamed tributary of Antietam Creek. This project will contribute to the preservation and conservation of water quality within the Upper Schuylkill River.
Natural Lands Trust, Kulp Property: $4,000
The Natural Lands Trust will purchase a conservation easement on this 30-plus- acre property to protect important natural resources, including the headwaters of Pigeon Creek. This project will also provide public access to a trail system in the East Coventry Township Trail Network.