That's Progress: Mayor Nutter Releases Greenworks Update for 2012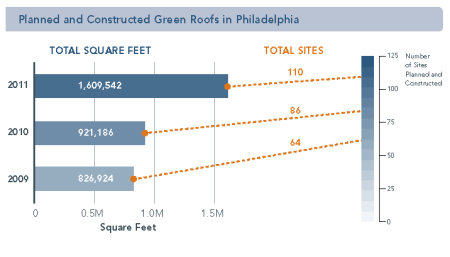 We're at the halfway point of Greenworks—the plan that outlines how Philadelphia will become the greenest city in America by 2015—and giant steps have been taken toward sustainability. The Greenworks Philadelphia Update and 2012 Progress Report is now available (click here to download as a PDF) for your inspection. The report details how Philadelphia is conserving energy, reducing emissions, increasing tree coverage, providing access to recreation and healthy food and more. Certainly, Green City, Clean Waters is part of the equation, too—but since we spend about 364 days of the year touting our green stormwater management plan, here are some other highlights:
A reduction of municipal energy use by 5%
A more than tripled rate for curbside residential recycling
Increased access to healthy, affordable food for more than 200,000 Philadelphians
428 miles of bike lanes completed
In all, of the 167 initiatives put forth in Greenworks, 38 initiatives are complete, and 110 are currently underway.