Tips to Keep Old Man Winter's Icy Grip from Freezing Your Home's Plumbing

Watch and share our video on preventing frozen pipes!
With the National Weather Service calling for a blast of Arctic air that will drop Philadelphia temperatures into the teens by Thursday night, the City of Philadelphia is putting out a Code Blue alert.
In addition to keeping an eye out for those left vulnerable by the extreme cold, Philly residents should take steps to protect their home plumbing from below-freezing temperatures.
> As the people answering phones on our emergency hotline
can tell you
, a stretch of really cold weather can lead to an unpleasant surprise for residents looking forward to that warm shower or cup of hot cocoa:
frozen pipes.
For some, frozen pipes or an ice-clogged water meter means there's no water when they turn on the kitchen tap. But for others, it can mean burst plumbing, a flooded basement, and expensive repairs.
And, because homeowners take care of the plumbing on their property, the Philadelphia Water Department can't unfreeze pipes or make repairs if the cold does lead to a break.
The good news is you can take steps to avoid the damage caused by extreme cold and frozen pipes.
In most homes and apartments, the service line—the pipe connecting the water main in the street to the inside plumbing—is far enough underground that even the coldest weather won't cause freezing. In that case, frozen pipes usually happen because of poor insulation or a leaky basement window near a water meter or plumbing.
Use these tips to protect your plumbing, and be sure you know where your shutoff valve is located just in case you do end up with a burst pipe—acting quickly will help minimize damage from flooding.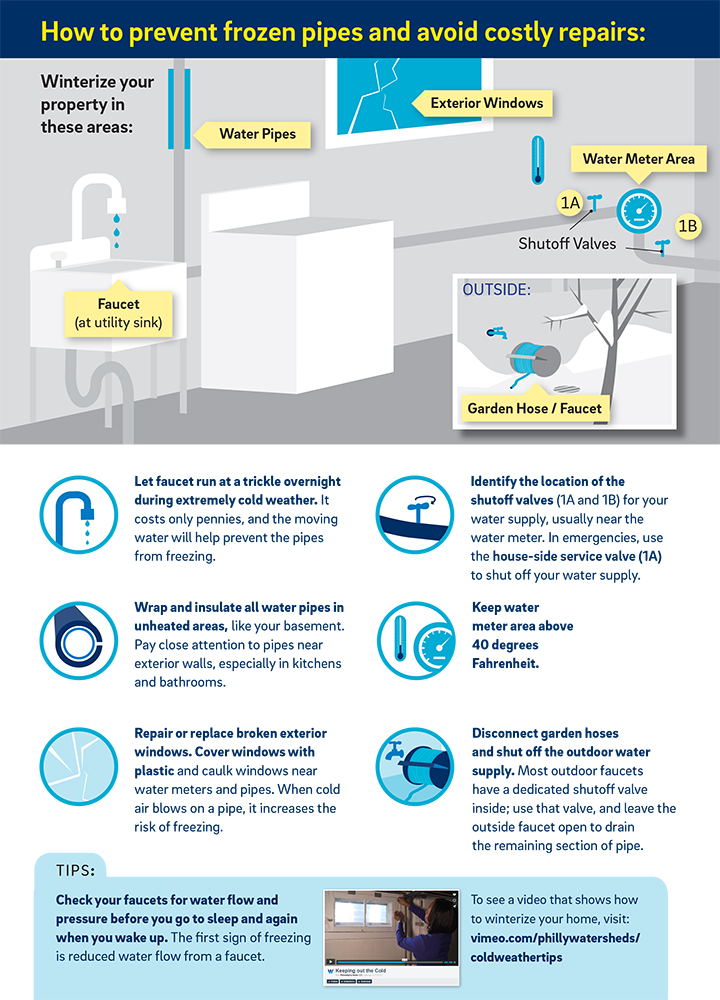 TIP: You may also want to find your local Neighborhood Energy Center and see if they provide resources for home weatherization, which can help keep the cold out and the heat in. Communities can also request weatherization workshops from ECA by emailing this form to Aleta Rogers at aletar@ecasavesenergy.org or calling 215-609-1044. Philadelphia Gas Works also lists neighborhood weatherization workshops on their community calendar.
Frozen Pipes vs. Service Interruptions
While we encourage residents to report water emergencies quickly by calling 215 685 6300, it's easy to assume there's a bigger issue, like a water main break, when nothing comes out of your tap.
So, how can you tell the difference between a water main break and frozen pipes at your house?
Usually, checking with your neighbor can settle that: if their water works and yours doesn't, it's a good bet that there's an issue with your plumbing.
Check out the tips below for unfreezing your pipes, and share this valuable info with your friends and neighbors: