Tonight: Clean Water Is Good Business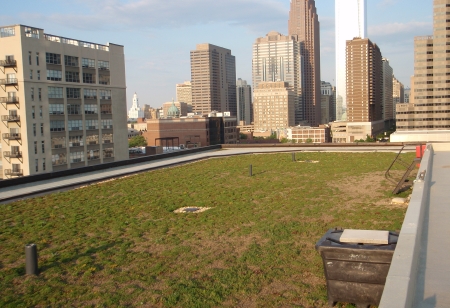 The green roof on PECO's building in Center City (pictured above) is certainly one way that businesses practice good stormwater management. But you don't have to be PECO to help keep Philly's water clean. Even the smallest businesses can find ways to manage stormwater and save money while showing their customers their commitment to sustainability. Join the Tookany/Tacony-Frankford Watershed Partnership tonight, October 20, from 7-8 p.m. for a free workshop. Good Business Practices for Clean Water will show you how to reduce stormwater runoff and pollution with simple housekeeping tips (protecting storm drains, vehicle washing, winter de-icing) and green practices (rain barrels, container gardens, tree planting).
The workshop will be held at the Rowland Community Center, 400 Mytrle Ave., in Cheltenham. Contact Dottie Baumgarten (dottiebaumgarten@gmail.com) for more information. Also, see our Businesses section for tips and guidelines for managing stormwater on your business property.