Two Philly Free Streets Activity Stops Inspire Wonder About Philly's Waterways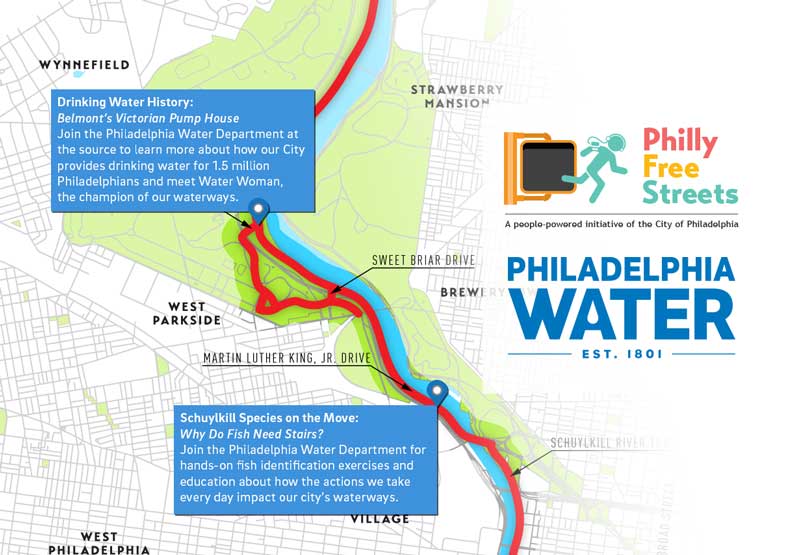 The Philadelphia Water Dept. will host two activity stops on the Philly Free Streets route where you can explore fascinating parts of our water infrastructure and history.
Have you heard about Philly Free Streets? On Saturday, Sept. 24, the City of Philadelphia will close down 10 miles of streets to cars from 8 a.m. to 1 p.m. so that residents can enjoy those spaces for walking, biking, running and just plain fun.
The idea was inspired by the joy many experienced when the Papal visit from Pope Francis closed streets to car traffic, leaving them open for people.
Making this exercise-encouraging day even more fun, City departments will join a number of organizations in offering activity stops along the route where Philly Free Street-ers can learn more about their communities and engage in exciting activities.
Here's what the Philadelphia Water Department will be offering along the Philly Free Streets route:
Schuylkill Species on the Move: Why Do Fish Need Stairs?
Many people don't know it, but the iconic Fairmount Dam, which spans the Schuylkill River at the Fairmount Water Works and and helps to create the famous pool above Boathouse Row, contains a fascinating piece of infrastructure known as a fish ladder.

From 8 a.m. to 1 p.m., we'll be offering a rare peek inside the fish ladder, a series of steps designed to allow migratory fish such as striped bass and shad to bypass the dam and access spawning grounds farther upstream. In addition to migratory species, the ladder is used by many types of aquatic life, including river otters. Once such otter, captured on video as it passed through, has since gained near celebrity status in Philly and helped inspire storm drain markers for the Schuylkill Watershed:


Kids will have a chance to identify Schuylkill River species through a cool art activity provided by the Fairmount Water Works.
In addition to exploring the fish ladder and the critters that use it, we'll have information about the transformative Green City, Clean Waters program and a fun activity that lets people build mini temporary sculptures using cardboard raindrops. You can reach this station along Martin Luther King Jr. Drive, just above the MLK Drive bridge:
Drinking Water History: Belmont's Victorian Pump House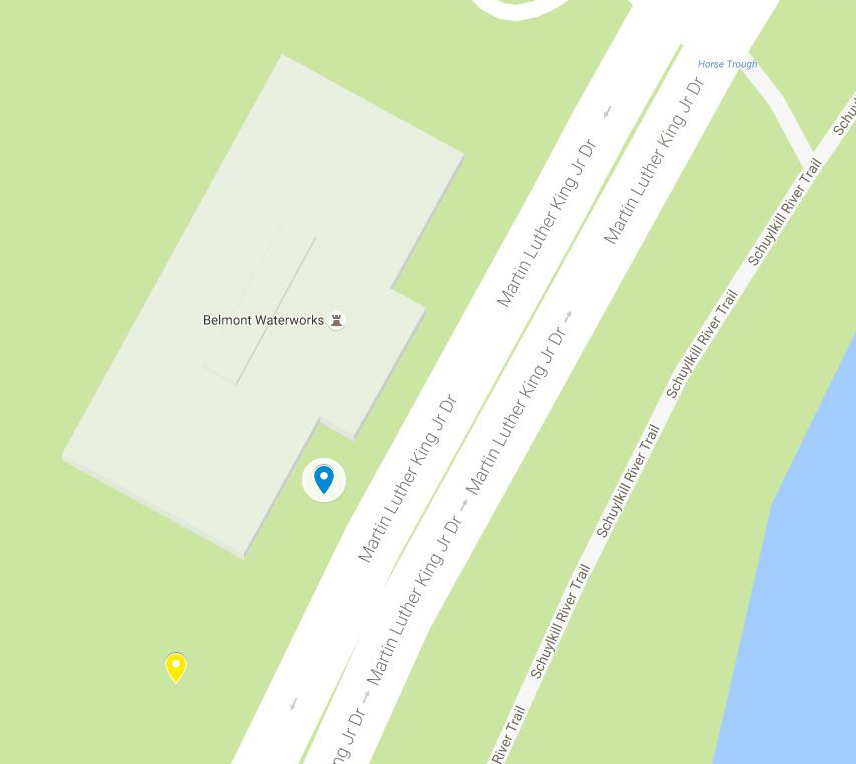 The Philadelphia Water Dept. will have an activity stop at MLK and Montgomery Ave. Click the map to see more activity stops.
If you've ever jogged or biked on MLK Drive at Montgomery Avenue, you might have noticed a gorgeous Victorian-style building made of red brick. That would be site of our Belmont Pump House, also called the Belmont Waterworks, which has been along the Schuylkill River since about 1869.
The existing building, constructed in 1899-1900, will be explored as we take a look at the infrastructure and history behind the vast network of technology used to deliver clean, safe water to 1.5 million people 24 hours a day, seven days a week.
Along with drinking water history and science, you'll be able to meet Water Woman—protector of all Philly Watersheds—take the #DrinkTapPHL pledge, and sign up for special storm drain marking kits that reveal your neighborhood's watershed spirit animal.
The weather for Saturday looks fantastic, so we hope to see you along the route — this is your chance to enjoy the open streets, get some exercise, and learn some interesting stuff about your local rivers and the role they play in providing our city with essential, top-quality drinking water.
Learn all about Philly Free Streets and find out how you can earn rewards and compete in the Philly Free Streets Scavenger Hunt here!