What's the Value of Water? Tackle the Question at WHYY with Philadelphia Water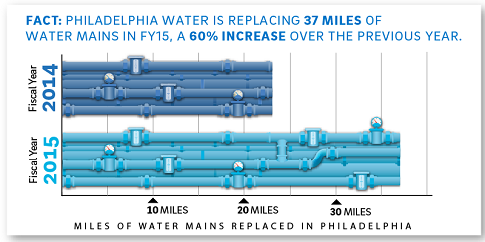 Philadelphia Water is serious about investing in infrastructure. Credit: Rick Orlosky
Water is essential for everything we do in life, and so are the systems that deliver drinking water to homes and businesses and remove and treat wastewater for safe reuse or return to the environment. After working around the clock for decades or more (often for over a century), and serving growing communities, Philadelphia's water infrastructure is aging and in need of investment. Water systems also face stresses that their 20th-century builders never anticipated as changing climate patterns intensify storm events, increase drought occurrences, and contribute to rising sea levels and flooding.
Like cities and regions nationwide, Philadelphia is confronting complex environmental, demographic, and economic challenges while working to meet the public's expectations for affordable clean water, effective wastewater management, and flood protection. But Philadelphia is tackling these formidable challenges with a unique approach. Philadelphia Water is aiming to be a model 21st Century utility with investments in innovative, decentralized water infrastructure as a cornerstone of our 25-year Green City, Clean Waters strategy to achieve that goal. Philadelphia is also pursuing strategies to make all wastewater treatment plans
Net Zero Energy facilities
.
As part of
Infrastructure Week 2015
, Philadelphia Water is joining forces with
American Water
, the
Economy League of Greater Philadelphia
and the
Value of Water Coalition
for a roundtable discussion on the state of water infrastructure and innovative investments in regional water systems. The conversation will cover a number of ways that water investments are moving Philadelphia and the region forward, and how water infrastructure in this region compares to projects and strategies in other regions across the country.
Join us
on Thursday, May 14 from 8 to 10 a.m. at the WHYY Studios for free breakfast and engaging conversation. The event is free, but you must
register by clicking here
.