Delaware
Overview
The Delaware River Basin extends to the Catskill Mountains in New York State and stretches more than 330 miles through four states and 42 counties before draining through the Delaware Estuary to the Atlantic Ocean. Philadelphia's entire land surface ultimately drains to one of seven watersheds that are tributaries to the Delaware River. The main stem of the Delaware River is the longest free-flowing (undammed) river in the eastern United States, and it serves a variety of important residential and industrial functions, including fishing, transportation, power cooling, and recreational purposes, but most important as a source of drinking water.
The Philadelphia Water Department is focused on the management of water resources within our piece of the watershed. Therefore, most of our planning activities related to the Delaware Direct Watershed, which comprises the area of the City of Philadelphia that drains directly to the Delaware River and generally consists of the Delaware River Waterfront and several city blocks of inland area. This ultra-urban watershed is in the midst of a planning revolution, as the riverfront is undergoing a transformative renaissance, garnering attention from recreational enthusiasts, neighborhood associations, high-rise developers, and international planners.

Fast Facts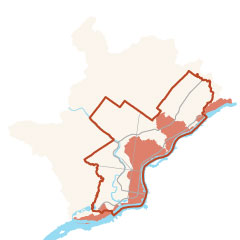 Area
The entire watershed drains nearly 13,000 square miles, of which Philadelphia's contribution is very small. Approximately 40 square miles of the City of Philadelphia drain directly to the Delaware River.
Stream Miles
The Delaware River Watershed contains approximately 23,700 linear miles of streams. Again, the City of Philadelphia's contribution is very small, limited to 21 miles of the Delaware River waterfront.
Population
Estimated at approximately 7.7 million residents, approximately 500,000 live in the City of Philadelphia.
Land Use / Impervious Cover
Land use is estimated to be approximately 55% forest, 15% developed, and 26% agriculture throughout the entire watershed. The area within Philadelphia is very densely developed and estimated to be 72% impervious surface.
Counties / Municipalities
The Delaware River watershed encompasses areas of four states, 42 counties and all or parts of 838 municipalities in the Mid-Atlantic region.
Within the Delaware Watershed exists a myriad of spirited residents, community groups, businesses, and institutions that advocate partnership opportunities to protect and enhance watershed and waterway resources. Learn more about these stewards, their initiatives, and how you can make a difference in the Delaware Watershed.
Watershed Resources
This dynamic map will enable you to see the specific locations of featured projects and PWD initiatives within this watershed.
Take our Watershed Tour to see notable landmarks and hidden treasures that define the character of this watershed's past, present and future.
Source water protection and the development of water and stormwater infrastructure helped shape the character of our watersheds. Understanding this history is fundamental to stormwater management strategies and other site development regulations we implement today.
These core documents and maps reflect the research and planning we've conducted in order to determine the condition of this watershed and strategize future improvements.
A wealth of data is available for you to learn more about the health and quality of this watershed's waterways.
PWD biologists are currently studying the water resources and aquatic life in the Delaware River and will document all data collected. The results will include a list of known watershed problems in a Comprehensive Characterization Report.
The recurrent watershed issues identified in local planning efforts and documented by the Delaware Direct River Conservation Plan include:
Lack of waterfront access,
Lack of recreation and public amenities,
Disconnection to historic resources, and
Concern regarding overdevelopment that may alter the character of the surrounding neighborhoods.
PWD is currently developing an Integrated Watershed Management Plan to facilitate restoration, enhancement, and sustainable improvements.
To help guide the Integrated Watershed Management Planning process, PWD has initiated the Delaware Direct Watershed Partnership to provide input from various stakeholder viewpoints and to collaborate on watershed projects.
PWD is completing the Delaware Rivers Conservation Plan to create an environmental and cultural planning inventory for this highly urbanized watershed. Through this planning process, creative community outreach events took place in the watershed and brought together a group of watershed stakeholders that has evolved into the Delaware Direct Watershed Partnership.
PWD participates in the Coalition for Philadelphia's Riverfronts to support high-quality, continuous, connected riverfront greenways along the Schuylkill and Delaware Rivers. This greenway will contain a multi-use trail and vegetated green space to manage stormwater, protect the rivers from pollution, and attract wildlife back to the riverbanks.
The Model Neighborhoods Initiative includes many neighborhoods in the Delaware Direct Watershed, including New Kensington/Fishtown, Northern Liberties, Pennsport, Passyunk Square, Lower Moyamensing and North Philadelphia.
Our watershed partners provide a wide array of opportunities to learn and get involved: