Virtual Tours
Watershed Virtual Tour
This virtual tour in Google Earth will fly you around the Delaware Direct Watershed, giving an overview of the watershed's natural and historic landmarks as well as PWD's various projects. Find out where PWD and our partners are creating tidal wetlands and implementing green stormwater design such as pervious pavement, tree trenches and rain gardens.
Download the Delaware Watershed virtual tour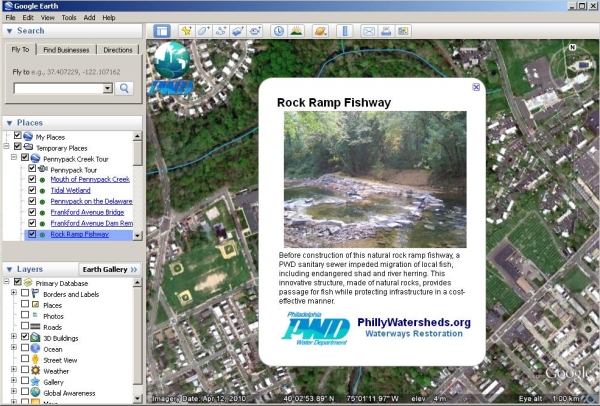 Tour Instructions and Tips
1. Download and install Google Earth.

2. Click on the Watershed Virtual Tour link above and open the file in Google Earth.

3. We recommend unchecking all boxes except 3D Buildings in the Layers panel on the left side in order to best view the tour's features.

4. Begin the tour by going to the Places panel on the left side and double-clicking "Delaware Tour" next to the video-camera icon at the top of the list.

5. Once the tour has begun, you will proceed upstream and timed pop-up windows will appear to describe the different sites. You may pause, fast-forward or rewind the tour by pointing your cursor to the lower left of the display screen, or click ahead to different sites in the Places panel.
To learn more about Google Earth see the user guide.

Delaware Direct Rivers Conservation Plan Waterway Tour
This virtual tour is a visual survey of the various structures, sites and points of interest along the Delaware riverfront. These photos were taken on June 26, 2007 by PWD Office of Watersheds staff.
Download the KML file for Google Earth.