Investing in Our Brand: Investing in Our Customers
The second installation in a series of stories examining the foundations of our new brand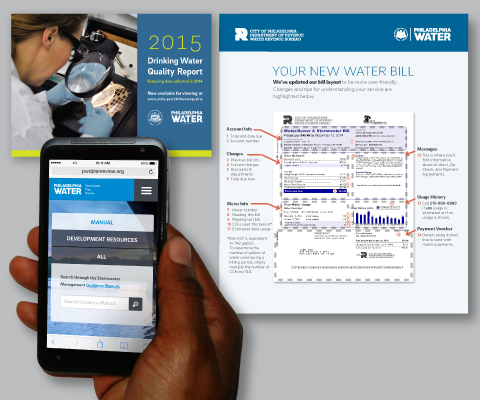 Our new look in action: Philadelphia Water's 2015 Drinking Water Quality Report, our revamped bill, and the new Stormwater Regulations website. Credit: Philadelphia Water.
Our new logo and brand, which hasn't been updated since 1987, is a very visible piece of our efforts to communicate with the 2.2 million customers and other stakeholders we serve and work with every day.
We don't just have a new logo. We have a new way of doing things that is redefining what a water utility can be and do.
We are a different department than we were 30 years ago. You can see the change through our innovative, trendsetting programs like Green City, Clean Waters or in our new Stormwater Plan Review and Regulations website, which makes complex information for developers and commercial customers more accessible and easier to understand than ever.
Because what we do and how we do it has changed so dramatically, we needed to change the very thing that says who we are: our brand.
The logo people see every day is part of the face we put on the immense amount of work Philadelphia Water does to make sure our customers know what we offer and how we are using their fees.
And, while the funds invested in our new look represent an extremely small slice of our budget, it's a powerful and cost effective way to send a clear message about all the important new work we're doing and to call attention to significant changes in the way we operate.
Our new brand does a number of important things, giving us a big bang for our buck:
• Being Philadelphia Water instead of "PWD" clears up widespread confusion about who we are. Experience and research revealed many customers mistakenly associated us with "PGW," our sister agency, the Philadelphia Gas Works.

• Updating our look to express our massive modernization efforts sends a signal to businesses and people thinking about moving to or working with Philadelphia.

• Investing in a new brand is an easy and cost effective way to start a conversation about what Philadelphia Water is today.

• "Established 1801." The new look strives to foster civic pride in Philadelphia's history as a leader in water technology, reinforcing our position as industry leaders—we have been at the forefront of protecting and delivering water for over two centuries. It also reminds people that much of our infrastructure is a gift we inherited from previous generations, and that now is our time to preserve and expand on that investment.
We take a big investment like this seriously, and we want to get this once-in-a-generation opportunity right. It's why we devoted significant resources and time to becoming Philadelphia Water—a name and look that truly reflects the new department we've become as well as the department we're working to be.
Beyond customer service and communications improvements, we're also reducing water main breaks, using smart meters, making big strides in river water quality improvements, and investing in renewable energy at our treatment plants — so stay tuned for more news.
We'll miss "PWD," but our new brand is your invitation to discover who we are in 2015. Philadelphia Water is a whole new department, one that's serving you better and offering more to customers and the city than ever before.