Green Roofs
A green roof is a roof that has been covered with vegetation to provide stormwater management and other benefits.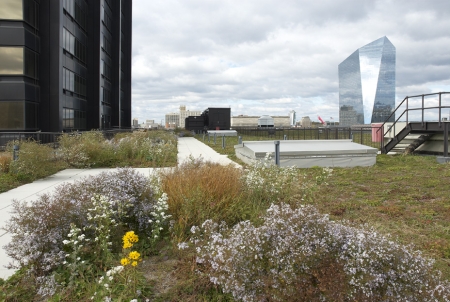 Green Roof Resources and Incentives
Instructional Guides
Living Roofs
Green Roof Manual
Green Roof Design Guidance
Reduce Your Stormwater Bill with a Green Roof
Learn more about Stormwater Billing
Green Guide for Property Management

Earn a Business Tax Credit with a Green Roof
Green Roof Tax Credit Fact Sheet
Green Roof Tax Credit Application
Other Incentives
SMIP Grants for Stormwater Management
Zoning Incentives Fact Sheet
What is a Green Roof?
A green roof is a roof that has been covered with living vegetation to provide stormwater management, cooling, natural habitat, and other benefits. Green roofs can be added to existing roofs, and can cover all or part of the roof. There are two general categories of green roofs:
An extensive green roof contains up to six inches of soil, is lightweight, accommodates shallow-rooted plant species and provides baseline stormwater, insulation and ecological benefits.
An intensive green roof contains more than six inches of soil and accommodates a variety of plants including grasses, ground covers, ornamentals and vegetable plants. Although intensive roofs require greater structural capacity to hold the roof load, they provide maximum stormwater, insulation and ecological benefits.
Thinking of Developing a Green Roof?
The most cost-effective time to construct a green roof is during new construction or when the roof needs to be replaced. Constructing a green roof as part of a new construction or redevelopment project can help you comply with Philadelphia's stormwater management regulations. To read more about these regulations, visit Philadelphia Water's Plan Review website.

Before initiating a roof retrofit, you will need to determine the capacity of your building to sustain a green roof by hiring a licensed professional, such as a structural engineer or architect, to examine the existing roof structure. You will also need to acquire a building permit through the Department of Licenses & Inspections.