Green Parks
Public parks, recreation centers and playgrounds provide important gathering spaces for our communities. By keeping stormwater runoff on park land and helping it soak into the ground, green open spaces can also protect our waterways.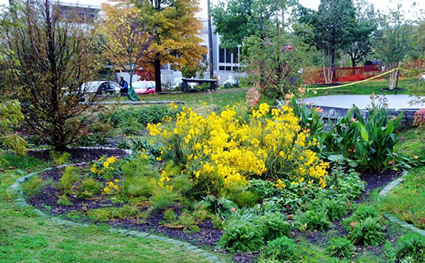 About Green Parks
Green Parks use
stormwater management tools
such as rain gardens, stormwater tree trenches and porous paving to capture runoff water from rain and snowstorms, allowing it to absorb into the soil where flowers, shrubs and trees can soak it up. With more than 11,000 acres of land, Philadelphia's parks offer many opportunities to re-route stormwater runoff from nearby streets, parking lots and playing courts. By reducing the amount of stormwater runoff entering the sewer system, we can reduce
combined sewer overflows
, keep our waterways clean, and beautify our neighborhoods.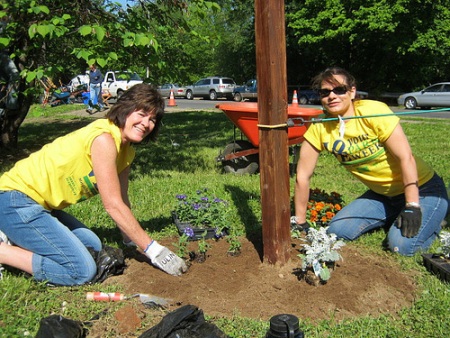 Get Involved: Ways to Participate
Nominate your park!
Have a park you'd like Philadelphia Water to consider for green stormwater management? Complete our online
Community Input for Green Stormwater Infrastructure form
to suggest a park site.
Important:
Submission of the community input form does not guarantee selection. Selected parks may take 2-5 years to go from planning to implementation.
Adopt your green park
Have a green thumb? Want to help water plants and keep your green park litter-free while protecting Philadelphia's creeks and rivers?
Click here to learn more
about our
Soak It Up Adoption
program.
Why Parks?
Publicly accessible with popular attractions such as museums, historic buildings and recreation centers, Green Parks projects provide great opportunities for families, students, and passersby to learn about the important role of green stormwater management in Philadelphia. In addition to protecting our water supply and improving the health of our creeks and rivers, green stormwater management can help improve our air quality, alleviate the urban heat island effect by reducing air temperatures, and provide free outdoor space for recreation.
Partnerships for Green Parks
Philadelphia Water works closely with Philadelphia Parks & Recreation as well as other dity agencies and community groups undertaking park revitalization projects to encourage collaboration and the incorporation of green stormwater infrastructure. Our Green Parks program is currently focused on planning, design, and implementation of projects within the
combined sewer service area
of Philadelphia.